CCCEU Weekly Update Oct 27, 2023 | EU's Clean Energy Dilemma: Challenges and Competitiveness
Editor's Note: Greetings! This edition of CCCEU Weekly Update will provide insights into China-EU dynamics and keep you updated on the latest developments. Enjoy reading and have restful weekend.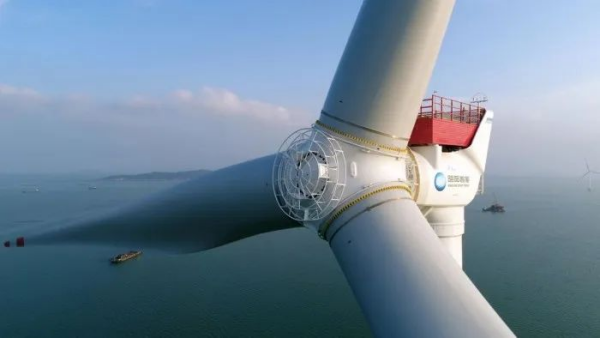 ▶︎ Focus
In this week's report, we delve into two critical facets of the EU's engagement with clean energy. The first part uncovers the EU's cautious stance towards investigating China's wind power industry, citing the absence of conclusive evidence of unfair practices. Following this, we turn our focus to the competitiveness of the EU's clean energy technologies and the escalating dependence on imported components. Let's unravel the complexities of these challenges and their impact on the EU's leading role in the clean energy revolution.
Section 1: EU's Deliberate Approach to Investigating China's Wind Industry
Reuter reported that the EU is hesitant to launch a formal investigation into China's wind power industry, as it lacks "very clear evidence" of unfair practices that would warrant such a probe, according to an EU official. This decision follows the leak of a wind energy proposal by the EU Commission, which revealed plans to scrutinize foreign subsidies as part of an action plan aimed at supporting the European wind industry.
The EU has been grappling with the challenges posed by China's wind power industry, which has emerged as a formidable competitor to Europe's own wind sector. This competition has led to concerns about the EU's ability to maintain its leadership position in the renewable energy market, as Reuters reported.
An EU official involved in the process cited concerns related to the financial arrangements accompanying Chinese wind projects, including deferred payments.
The EU official emphasized that, according to the report, at this stage, Brussels lacks sufficient grounds to proceed with a formal investigation into China's wind power industry.
They noted that for such an investigation to be initiated, "very clear evidence" of unfair practices is required. While there have been reports and indications that raise doubts, these do not constitute substantiated evidence of a trade violation.
Reuters noted that the EU's renewable energy industry, particularly the wind sector, has faced challenges since 2021, including inflation and intense global competition, with China emerging as a key player.
Despite these challenges, the EU remains committed to preserving and bolstering its renewable energy sector, aiming to ensure that it continues to be a European success story. The EU views its renewable energy industry as one of its prized assets and is determined to take measures to protect its position in the global market.
Section 2: EU's Competitive Stance in Clean Energy Technologies
Despite the surge in energy and material costs in 2022, a report shared by the European Commission affirms that clean energy technologies in the EU remain highly cost-competitive.
A standout achievement is the remarkable increase in the adoption of wind and solar energy in the EU, up by approximately 50% in 2022, marking a positive trajectory for the clean energy sector.
Mounting Import Dependence: A pressing concern illuminated in the report pertains to the EU's growing reliance on imported components for essential clean energy technologies. Over 60% of the global manufacturing capacity for critical battery and solar value chain segments is concentrated in China, and over 90% of the capacity for wafers and ingots, crucial for solar PV, is likewise situated in China. Even in sectors where the EU boasts robust manufacturing capabilities, such as wind energy and heat pumps, there is a noticeable decline in EU market shares.
EU's Remedial Measures: The European Commission has sprung into action to combat this burgeoning import dependence. Initiatives such as the Green Deal Industrial Plan, the Net-Zero Industry Act, and the Critical Raw Materials Act are all aimed at reducing the EU's reliance on imports, fortifying the value chain, and nurturing a robust domestic manufacturing base.
Challenges and A Way Forward: The report underscores the urgency of enhancing skills, generating high-quality jobs, and bridging the chasm between research and market application. While employment trends appear positive, the EU continues to wrestle with skills gaps and shortages dating back to 2021. In 2023, nearly 80% of small and medium-sized companies reported difficulties in locating workers with the requisite skills. The report suggests intensified efforts through EU and national programs, coupled with the establishment of clear research and innovation (R&I) targets for 2030 and 2050.
▶︎ Hot Topics
>>EU seeks to revive peace talks since no military answer seen in the Israel-Palestinian conflict
According to the Associated Press, as distant as the prospect of peace might seem, European Union leaders believe it is time to start laying the foundations for a future relationship between Israel and the Palestinians where the militant group Hamas doesn't control Gaza. Mindful that resentment and even conflict in the wider Middle East and Gulf regions have been fueled by decades of tensions between Israel and the Palestinians, the 27-nation bloc has begun exploring ways to realize a long-held EU ideal — two states living peacefully side by side. As the Palestinian death toll climbed beyond 7,000 and Israel carried out airstrikes on Friday in response to the Hamas incursion into southern Israel, EU leaders meeting in Brussels for a second day encouraged broader diplomatic and security initiatives to stop the conflict from spreading, and ultimately from ever starting again. A peace conference and political settlement would be part of that.
>>EU strikes clean energy deals in global forum
According to euronews , the EU has announced a raft of new investment agreements as part of a two-day forum on Global Gateway, the bloc's infrastructure partnership plan to rival China-proposed Belt and Road Initiative (BRI). The new EU initiatives include agreements on critical raw materials with the Democratic Republic of Congo and Zambia and on green hydrogen with Namibia, as well as cooperation on clean energy with Bangladesh and Vietnam. European Commission chief Ursula von der Leyen hosted over 40 leaders and ministers of EU partner countries in Brussels on Wednesday for the first in the two days of the summit, where she pitched the EU as a "better choice" for financing and building clean infrastructure.
>>ECB holds key interest rate at 4%
FT reported that the European Central Bank has held interest rates, bringing an end to its unprecedented streak of 10 consecutive increases in borrowing costs amid rising concerns over eurozone growth. The decision, announced after ECB rate-setters met in Athens, was expected by analysts in the wake of eurozone inflation more than halving from its peak and the economy showing signs of weakening.
>>US will extend EU metals tariff exemption if needed
According to Reuters, the United States will roll over its suspension of tariffs on European Union steel and aluminum if the two sides need more time to agree on measures to address overcapacity and low-carbon production, the US ambassador to the EU said on Wednesday. The United States suspended import tariffs of 25% on EU steel and 10% on EU aluminum for two years from January 2022, replacing the tariffs imposed by former President Donald Trump with a tariff rate quote (TRQ) system. The TRQ allows up to 3.3 million metric tons of EU steel and 384,000 tons of aluminum into the United States tariff-free, reflecting past trade levels, with the tariffs applying for any further amounts.
>>China-EU shuttle trains bring new opportunities to Polish town
Xinhua News Agency reported on Thursday that, as an important part of the "Belt and Road" cooperation, the rapid development and growth of the China-Europe railway expresses has made the Polish border town of Malaszewicz, the eastern gateway to the EU railways, rise from obscurity to fame. Nowadays, this town with only a few thousand residents is witnessing the "steel camel caravan" reorienting itself to help China-EU economic and trade development in new areas. Malashevich, 9 kilometres from the Belarusian border, is an important transit point and cargo distribution centre for China-EU trains. According to statistics, about 90 per cent of China-EU trains transit or arrive in Poland, while almost all trains coming from China will enter the EU by Malaszewicz.
>>China, EU businesses sign deals on IoTcooperation
On 23 October, as one of the important activities of the 2023 World Internet of Things Expo, the Sino-European Internet of Things Industry Cooperation Fair was held in the EU Project Innovation Centre (Wuxi) located in Wuxi Hi-Tech Zone. Enterprises and organisations in the field of Internet of Things from China and Europe gathered together, focusing on the fields of Manufacturing, Smart Manufacturing, Supply Chain, Energy, Public Utility Equipment, Smart City, Smart Building, Connected Transport, Augmented Reality (AI), Edge Computing, Augmented Reality (AR), Digital Twin, etc., and carried out precise pairing negotiations, and 20 cooperation intentions were reached through on-site pairing.
▶︎ What are experts talking about?
The Transformation of German Policy Towards Russia in the Context of the Ukrainian Crisis - An Analysis Based on the Theory of Foreign Policy Learning
Source: Institute of European Studies, Chinese Academy of Social Sciences
Author: Zheng Chunrong; Han Yanhong
The outbreak of the Russian-Ukrainian conflict ushered in a "turning point" in German foreign and security policy. This paper analyses the transformation of Germany's policy towards Russia in the context of the Ukrainian crisis of 2022 and its dynamics based on a comprehensive theoretical framework of foreign policy learning. The results of the study show that Germany's policy towards Russia has undergone a double shift in terms of policy goals and instruments, and has reached the level of "complex learning". The transformation of Germany's Russia policy was driven by shifts in cognitive beliefs within the government, the proliferation of allies' policies, and the transfer of the post-2010 policy of effective sanctions against Iran to Russia policy, having learnt the lessons of the insufficient sanctions against Russia after the Ukraine crisis in 2014. However, there are limitations to Germany's policy learning on Russia, with party politics, public opinion, a culture of restraint, and interest groups as possible constraints to Germany's policy transition towards Russia.
De-risking and decarbonising: a green tech partnership to reduce reliance on China
Source: Bruegel Think Tank
Authors: Alicia García-Herrero; Heather Grabbe; Axel Källenius
Trade in renewable energy goods is a global public good; all countries gain when others cut emissions, and all suffer from climate change if decarbonisation is delayed. Yet this trade depends on China, which controls most of the world's production of solar panels and electric vehicle batteries, and some of the global trade in wind turbines.
Part of the European Union and United States response to reduce reliance on China is reshoring production, but this is economically inefficient given their limited access to critical raw materials and high production costs. Moreover, Chinese firms are far ahead of the rest of the world in green tech manufacturing and innovation, and in extraction and processing.
Please note: the English version of this issue is slightly different from our Chinese one. The views and opinions expressed in this article do not necessarily reflect the official position of the CCCEU.