The 9th Europe Forum 2023 • Brussels | Toward Another 20 years of EU-China Economic Cooperation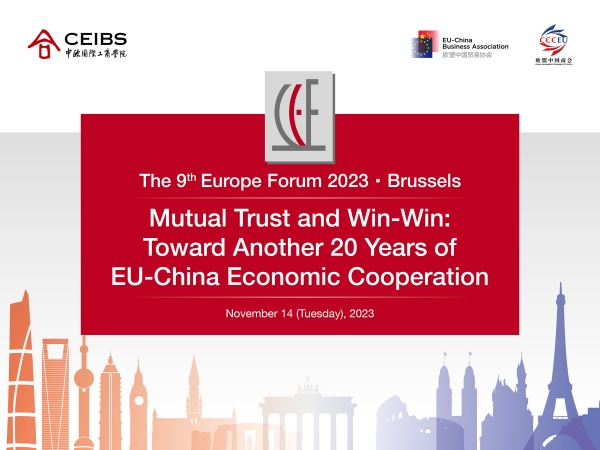 Join us on November 14, 2023, in Brussels for the CEIBS Insights 9th Europe Forum on the theme of Toward Another 20 years of EU-China Economic Cooperation.

Introduction
The comprehensive strategic partnership between the European Union (EU) and China turns 20 this year. Over the past two decades the EU and China, two of the world's leading economies, have engaged in mutually beneficial cooperation in a win-win manner and achieved significant success in fields such as politics, economy, culture, and science. As of the end of 2022, EU-China bilateral trade volume reached $847.3 billion, with each side the second-largest trading partner of the other. The stock of two-way investment between China and the EU has exceeded $230 billion, benefiting people on both sides and contributing greatly to world peace and economic prosperity.
Looking ahead, the two sides hold great potential for cooperation and share common interests in promoting economic growth and financial stability, coping with the energy crisis, curbing inflation, and pursuing green and digital transitions. As such, they have decided to set up a financial working group under the China-EU High-Level Economic and Trade Dialogue (HED) mechanism to strengthen cooperation in financial areas such as financial liberalisation, infrastructure, and regulation, as well as sustainable finance and fintech. However, some tension does exist within the relationship – EU authorities have recently opened an anti-subsidy investigation into Chinese electric car imports, for example.
The China Europe International Business School (CEIBS) is a global business school jointly founded by the Chinese government and the EU in 1994. It represents a major success in China's opening up and cooperation with the EU in the field of education. With our 30th anniversary around the corner, CEIBS has decided to return to Brussels to hold our 9th Europe Forum and invite guests from the EU and China's political, business, and academic sectors to analyse the journey of the China-EU Comprehensive Strategic Partnership over the past 20 years, envision the prospects for extensive cooperation between the two sides over the coming 20 years, and explore a path towards a stable and far-reaching China-EU relationship amid changing times.
Event Details
Date: Tuesday, November 14, 2023
Time: 09:00-12:10(Brussels time) 16:00-19:10(Beijing time)
Venue: Brussels & Shanghai (details to be provided upon registration
Language: English and Chinese (with simultaneous translation)
Contact: For more information, please contact Vittoria HUANG at hvittoria@ceibs.edu.
Agenda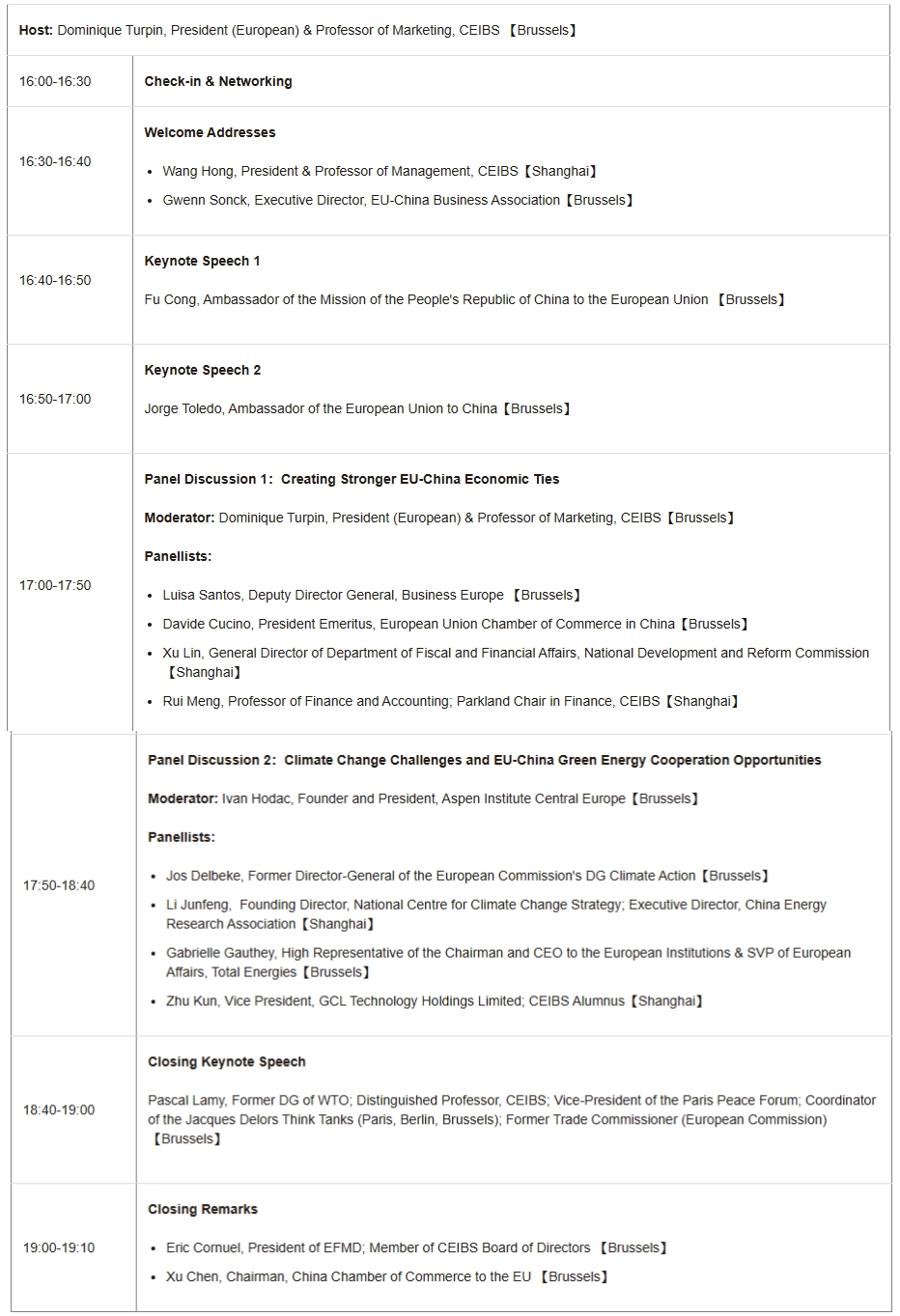 * The agenda is subject to change.