Sales of GWM New Energy Vehicles and Overseas Markets Hits Record High
On August 4th, Great Wall Motor Co., Ltd. (stock code: 601633. SH, 02333. HK; hereinafter referred to as "GWM") released production and sales data for July 2023. In July of this year, GWM sold 109,091 new cars, wiht a year-on-year increase of 7.03%; The sales of new energy vehicles reached 28,920 units, accounting for 26.51% of the total sales, all reaching new highs; Overseas sales of 27,007 vehicles increased by 83.60% year-on-year, reaching a new historical high.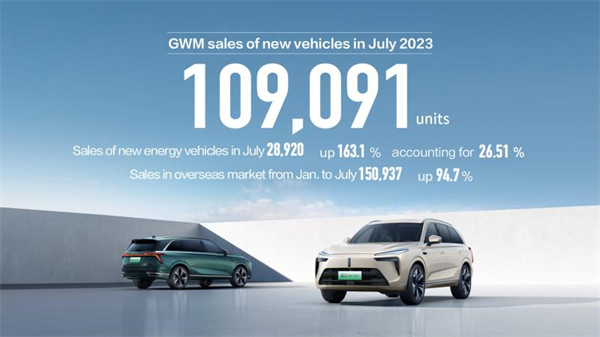 In July, with the empowerment of intelligent new energy technology, GWM continuously unleashed its new energy potential, deepened its global layout, and drove the market performance to rise. It has maintained stable growth for 7 consecutive months, and the overall development trend was significantly improving.
The high momentum of GWM Intelligent New Energy drives the performance of the market to rise
With the continuous revitalization of the GWM Intelligent New Energy Matrix, in July of this year, all brands of GWM achieved a rapid increase in new energy sales, driving it to maintain a high popularity and stable growth on the basis of the basic stability of the fuel vehicle market.
The HAVAL brand sold 62,967 vehicles in July, of which 10,105 were sold by HAVAL New Energy, exceeding 10,000 for two consecutive months. The new member of the HAVAL New Energy Dragon series, the HAVAL B26 will become a new energy off-road SUV popularizer with the "1.5T+Hi4+rear axle differential lock", making off-road vehicles no longer a small niche; The new HAVAL H5 has made a strong return, with its first batch of vehicles were already rolled out. It will lead the SUV market into a fully functional era as a pioneer in a new field; The 2024 HAVAL DARGO has been launched, with security protection and smart technology evolving simultaneously, bringing users a tough and trendy new experience.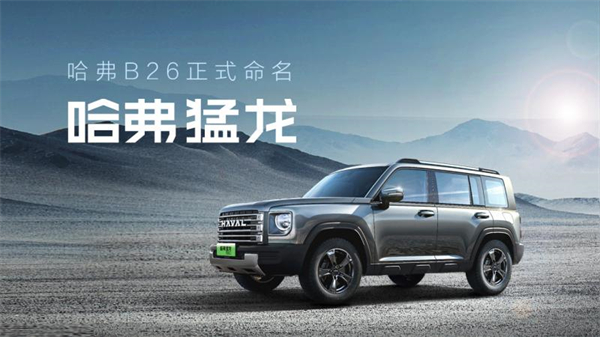 The overall sales of WEY New Energy brand in July were 6,652 vehicles. WEY Blue Mountain continued to sell well, with sales of 5,566 vehicles in July, maintaining a month on month growth for three consecutive months. Since its launch, the cumulative sales have reached 17,258 vehicles, becoming the new preferred choice for a price of CNY 30,0000 family six seater SUV.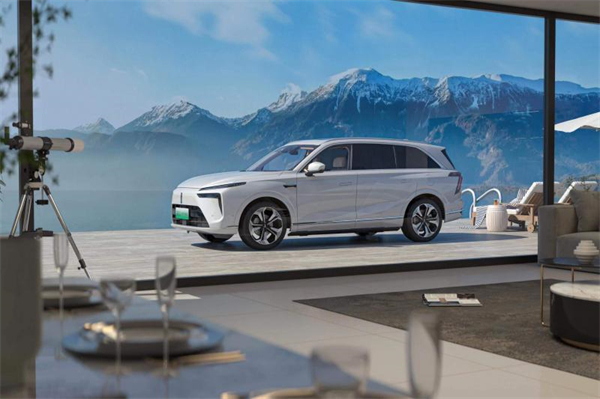 The ORA brand sold 10,116 vehicles in July, a year-on-year increase of 14.58%. The ORA 07 achieved the highest overall score in the health and safety index evaluation, and was awarded the five-star rating of the China Automotive Health Index. It also achieved 100 points in two tests, namely Electromagnetic Radiation (EMR) and Particulate Matter (PM), making it the only vehicle model to receive full marks in both assessments.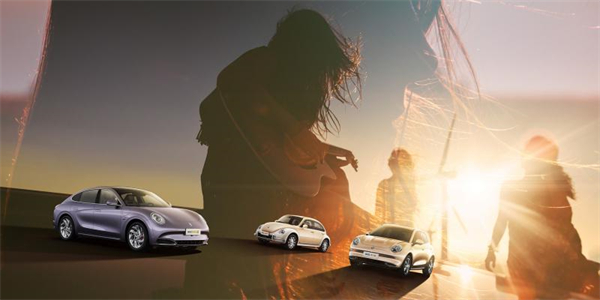 TANK brands sold 13,490 units in July, a year-on-year increase of 8.15%, with 2023 units sold for TANK 500 Hi4-T, and the total orders has exceeded 8,000 units. The TANK 500 Hi4-T relies on the off-road super hybrid architecture Hi4-T to fully meet diverse vehicle needs, providing a powerful, multi scenario, and extremely reliable benchmark level driving experience, creating a new era of off-road driving.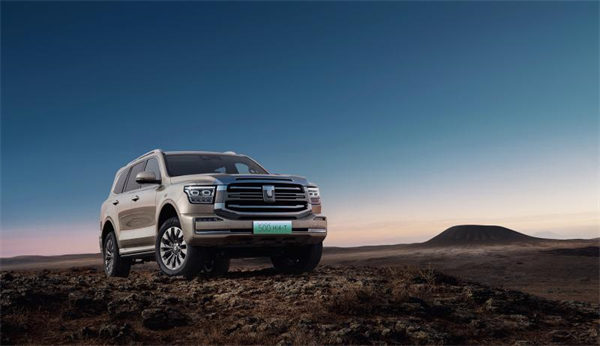 GWM pickup sold 15,841 units in July, with a cumulative sale of 118,437 units from January to July, with a year-on-year increase of 6.97%. The GWM POER sold 11,432 units in July, with a cumulative sale of over 10,000 units in 35 months, ranking first in pickup sales.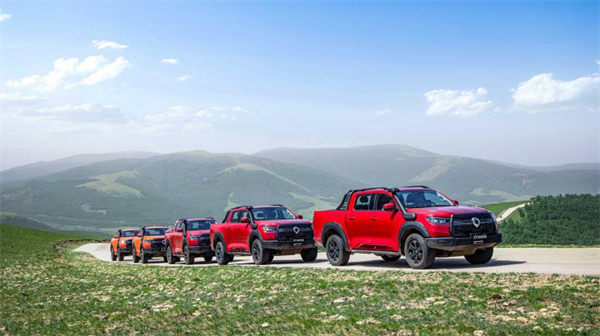 Global development accelerates with overseas sales exceed 20,000 vehicles for 5 consecutive months
In July of this year, with the overseas launch of multiple intelligent new energy products and the accelerated implementation of the " overseas ecosystem " model, GWM's global development further accelerated, with overseas sales reaching a historic high of 27,000 vehicles. It has achieved overseas sales exceeding 20,000 for five consecutive months.
New products continue to go overseas and continuously consolidate the foundation of overseas markets. ORA 03 is launched in Brazil, further deepening the influence of GWM brand in the Brazilian market and driving the electrification transformation of the Brazilian automotive market. The TANK 500 has been launched in Bahrain, and previously it had relay launches in various countries in the Middle East market, receiving continuous praise from local media and users. The TANK 500 has been launched in Kazakhstan, helping GWM continue to explore the Eurasian market.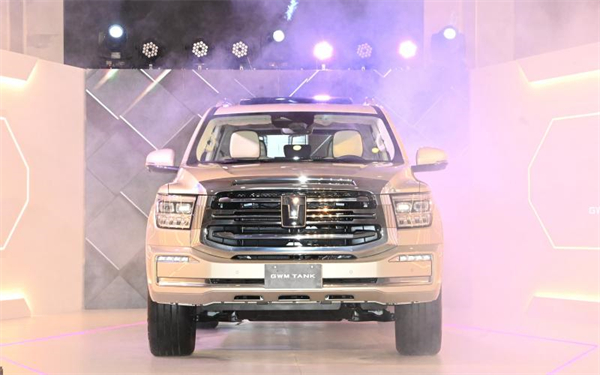 The "overseas ecosystem" model continues to be implemented in Central Asia. GWM and Uzbekistan Automotive Group ADM Automotive Factory have officially signed a strategic cooperation agreement on market development cooperation in Uzbekistan. GWM will bring new market vitality and development opportunities to the Uzbekistan market with high-quality automotive products. Through fuel and new energy products, it will conduct comprehensive localized cooperation with partners to achieve the successful launch and sales of HAVAL brand and locally produced models in 2023.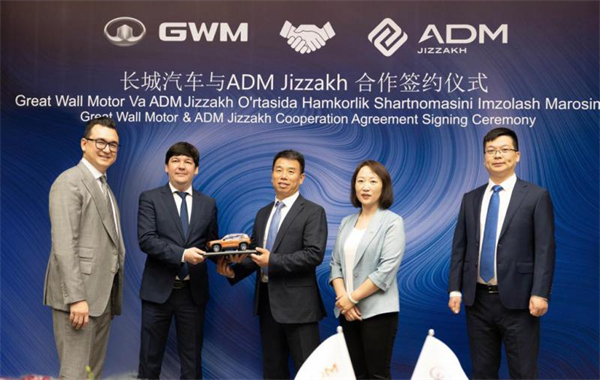 The "overseas ecosystem" model has been recognized by experts in various fields of industry, academia, and research. At the "China Latin American Automotive Industry Development Forum" held in July, GWM and various sectors of society jointly discussed the opportunities and challenges for development in the Latin American region, shared the phased achievements of the Latin American automotive market and the new model of "overseas ecosystem", and explored the path for Chinese automotive brands to go overseas in Latin America, receiving attention and recognition from multiple parties.
Work hard and tirelessly. With the continuous release of the potential of GWM Intelligent New Energy, GWM is entering a period of rapid development of new energy, and more heavyweight new energy products will gradually appear and going global, fully promoting the development of the enterprise to be positive.