BYD–Alexander Dennis partnership celebrates 1,500th electric bus
Larbert and Hounslow, United Kingdom – 7th August 2023: BYD UK and Alexander Dennis jointly announced today that their partnership has officially handed over its 1,500th electric bus, a BYD–Alexander Dennis Enviro200EV for Go-Ahead London.
BYD is a global leader in batteries, energy management and electric mobility. Alexander Dennis, the UK's largest bus and coach manufacturer, is a subsidiary of leading independent global bus manufacturer NFI Group Inc.
The 1,500th BYD–Alexander Dennis electric bus is one of nearly 300 joining Go-Ahead London this year for routes in the capital. Allocated to Merton Garage with fleet number SEe199, it has been in service on Transport for London routes 163 and 164 since May. It has now been officially handed over to Go-Ahead London's managing team by representatives of BYD and Alexander Dennis in a small celebration at the depot.
Go-Ahead is London's largest bus company and the UK's most experienced operator of electric buses. It has worked closely with BYD and Alexander Dennis since 2016, when it took delivery of 51 Enviro200EV for its globally recognised and multi-award-winning Waterloo site, which was the first bus depot in Europe to be fully converted to electric operation.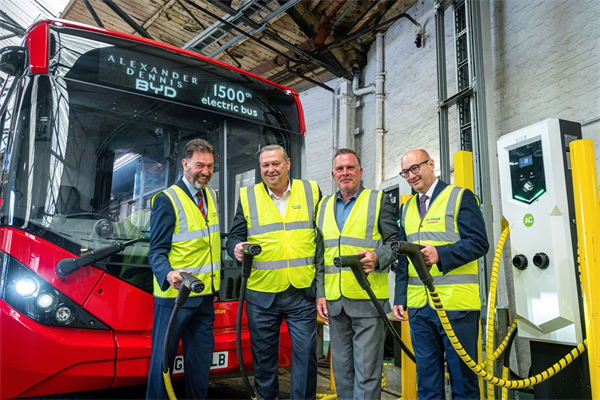 With a total of 577 Enviro200EV single deckers and Enviro400EV double deckers delivered or on order, Go-Ahead London is the partnership's largest single customer.
BYD UK Managing Director, Frank Thorpe, said: "This is a significant handover for all involved and Go-Ahead London is to be applauded for its commitment to electric bus fleets, setting an excellent precedent for eco-friendly public bus services. Climate change is upon us, and Go-Ahead London is showing customers that it is taking proactive steps to address this. The delivery of 1500 electric buses clearly reflects the benefits of zero-emission electric bus operations, and the role they play in reducing carbon pollution in our towns and cities. BYD has been dedicated to electric bus innovation for over a decade, and we are proud that our pioneering technology is contributing to the success of our electric bus partnership with Alexander Dennis in the UK. Together, we have been delighted to support Go-Ahead London with its electric bus fleet requirements."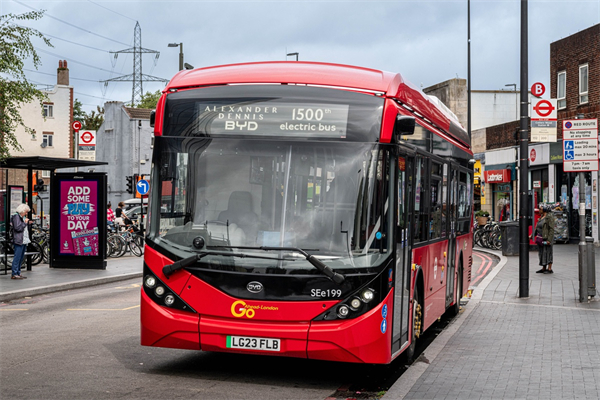 Alexander Dennis's National Account Manager for London, Neil Gladstone, commented: "It is testament to the success of our innovative partnership with BYD that we are now handing over the 1,500th electric bus. This milestone would not have been possible without the commitment from operators such as Go-Ahead London. Richard Harrington and his team have consistently led the industry by showing what is possible, from the first electric bus depot through opportunity charging to the current fast pace of zero-emission bus rollout."
David Cutts, Go-Ahead London Managing Director, said: "The pioneer BYD–Alexander Dennis buses at Waterloo quickly demonstrated zero emission was viable for the capital and immediately proved popular with passengers, drivers and engineers. It is fitting that the 1,500th BYD–Alexander Dennis electric bus was delivered to us and is providing clean public transport for users in the Morden, Raynes Park, Sutton and Wimbledon areas on routes 163 and 164. My congratulations to all involved in this success story, including Transport for London, whose vision is delivering cleaner air across our city. I also pay tribute to Richard Harrington for his outstanding leadership in this area for over a decade."
Richard Harrington, Engineering Director at The Go-Ahead Group and Head of its ZE Centre of Excellence, added: "BYD and Alexander Dennis deserve credit for creating what has proved to be a very popular product across the capital and elsewhere. This has enabled Go-Ahead London to make good progress in decarbonising its vehicles and by the end of this year it is scheduled to operate approximately 600 EVs, around a quarter of its overall bus fleet."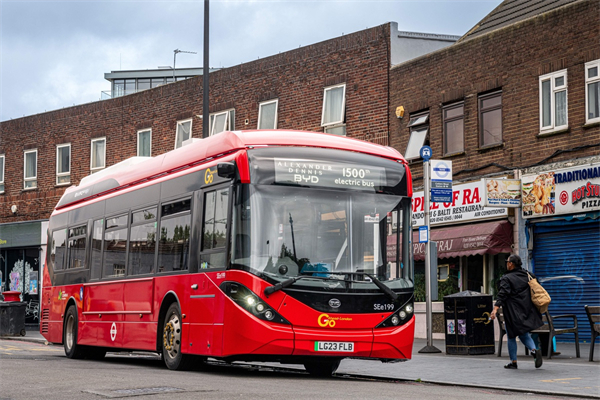 Over the past seven years, the combination of BYD's reliable battery technology and Alexander Dennis's expertise in body design and specification has paved the way for the large-scale adoption of battery-electric buses in the United Kingdom.
The single deck Enviro200EV is available in a choice of four lengths ranging from 9.6m to 12m, while the double deck Enviro400EV is available in two versions at 10.3m and 10.8m. They have found favour with operators large and small in a variety of operating environments ranging from busy city services to rural routes and staff shuttles. BYD–Alexander Dennis electric buses have also been sold to Ireland and New Zealand.