The CCCEU Weekly Update June 24, 2023: Brussels mulls hitting Chinese EVs with tariffs: Media | Chinese Premier Li concludes his Europe tour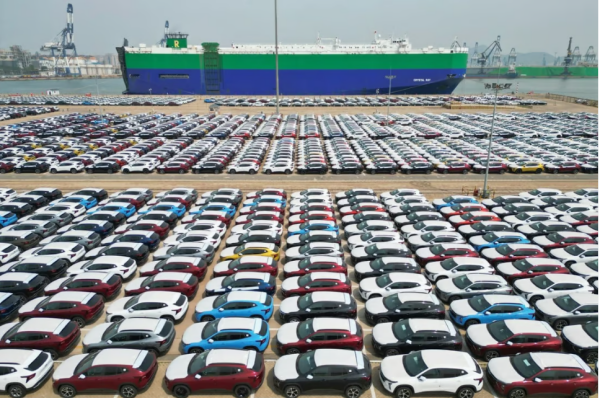 Editor's Note: Greetings! The chamber was busy with its annul assembly and a high-level business summit on June 16 but still kept an eye on the ongoing exciting China-EU dynamics, highlighted by Chinese Premier Li's first overseas trip, which he dedicated to Germany and France. As China's export of elective vehicles to Europe balloons, the EU is reported to seek to hit the sector with tariffs in a bid to protect its own electric car industry. This issue of the CCCEU Weekly Update keeps you informed of the latest significant China-EU economic developments. Enjoy your reading and have a nice weekend.

Weekly updates: Focus
Media reported that the trade department of the European Commission is floating the idea of pouring cold water on heated electric vehicle imports from China with its classic trade ammunition: anti-dumping and anti-subsidy investigations. The first round of investigations, as reported in the media, will probably be initiated in less than three weeks, on July 12th.
A spokesperson for the EU's executive arm seemed to remain silent on those reported investigations. Mr. Thierry Breton, the EU Commissioner for the Internal Market, voiced his support, saying that the rapid growth of Chinese EV imports has become a concern for the EU industry.
In this regard, Paris seems to have been lobbying for more trade protectionism. It insisted that around 40% of the electric vehicle purchase subsidies in France's first quarter of 2023 went to Chinese companies.
France reportedly plans to adjust the prerequisites of electric vehicle subsidies to benefit only the EU's EV brands. Additionally, the country is pushing for anti-dumping and anti-subsidy investigations on Chinese EV producers and subsequently raising tariffs on imports in a bid to protect the EU's domestic EV makers.
Paris's move aims to push foreign EV makers to localise and set up plants in the country to meet the local production requirement for subsidies, which in certain cases have the decisive influence on consumers' purchases at a time when the production of EVs by and large still stands costlier than that with combustion engines.
On June 16, even French President Macron campaigned Tesla CEO Elon Musk to "choose France". French officials signalled that the country also engaged in similar negotiations with China's EV giant, BYD, concerning setting up local factories.
France was apparently not the only EU country that sought to increase the presence of global EV players. Tesla has its first European factory in the German capital Berlin, which started production last year. Spain, Poland, Hungary, and other EU countries were reported to have also extended invitations to BYD.
Germany remains more cautious about trade measures on EV imports from China. The automotive industry is a key asset of Germany, with China being one of its most important export and investment destinations. For several German brands, China keeps growing as their largest overseas market and one of the most significant destinations of investments. Berlin is concerned that the future punitive tariffs may court Beijing's tit-for-tat measures and thereby harm Germany's own car industry there.
Data showed that in May, the new registrations of pure EVs in the EU market increased by 70.9%, with a market share jumping from 9.6% to 13.8%. Hybrid EVS also experienced a growth rate of 27.6% and a market share of 25%.
It is estimated that Chinese EVs will account for 15% of the EU market by 2025, a proportion that was still below 10% in 2022. In terms of pricing, the average price of Chinese EVs exported to the EU was around 30,000 euros last year, while the cheapest Tesla Model 3 reached 45,000 euros. Competitive pricing and mature technology are the main advantages for Chinese electric vehicle companies entering the EU market. However, some European companies and industry associations advocating for investigations and even measures on Chinese electric vehicles believe that the advantage may come from unfair industrial subsidies in China or aggressive market-grabbing strategies by Chinese companies.
Currently, the proposal for this investigation is still under discussion, and there is no further information disclosed regarding the scope of the investigation, technical indicators, or the specific EV models involved.
The current debate around EV investigations rings a bell: Europe and China once almost got caught in a trade war triggered by anti-dumping and anti-subsidy investigations on solar panels.
Since the resumption of normal trade in 2018, Chinese photovoltaic products have continued to increase their exports to the EU, and currently, Chinese photovoltaic components account for 90% of Europe's total demand. The shift in attitude from the EU's implementation of anti-dumping and countervailing measures against Chinese photovoltaics to the desire to promote technological progress through cooperation with Chinese companies reflects the competitiveness of the Chinese photovoltaic industry and indicates that the EU can also achieve mutual benefits in the development of the Chinese photovoltaic industry.
In the field of electric vehicles, whether the EU can achieve its goal of promoting domestic manufacturing by initiating investigations or substantive measures against China remains controversial.
Weekly updates: Hot Topics
>>Chinese Premier Li returns to Beijing from official visits to Germany, France
Chinese Premier Li Qiang returned to Beijing on Saturday morning by chartered plane after concluding his maiden overseas trip since taking office. His packed schedule included hosting the seventh China-Germany inter-governmental consultation, attending the Summit for a New Global Financing Pact, and meeting with French President Macron, German chancellor Olaf Scholz, and business executives from both Chinese and European sides.
Premier Li's high-profile Europe tour highlighted several significant meetings. On Thursday, Li met with President Charles Michel of the European Council in Paris. During the meeting, Li stressed that China's development brings opportunities rather than risks to the world, brings stability rather than shocks to global industrial and supply chains, China Daily reported.
Premier Li urged Brussels to view its cooperation with China "in an objective and rational way", and work with China to safeguard the sound environment of China-EU pragmatic cooperation. There is no conflict of fundamental interests between China and the EU, Li said, and both sides have benefited from each other's development.
Michel reaffirmed the EU's commitment to adhering to the one-China policy, saying that China's development is beneficial to the EU and the world. The EU has no intention to contain China's development and opposes a "new Cold War" and the act of taking sides, he said.
>> Li: China, France should enhance communication on intl affairs
Earlier on Thursday, Premier Li Qiang called for China and France, both as permanent members of the United Nations Security Council and responsible major countries, to strengthen communication on international affairs to jointly cope with global challenges while enhancing bilateral exchanges and cooperation, during a meeting with French President Emmanuel Macron.
Li said his visit to France aims to implement the important consensus reached by the two heads of state and have in-depth discussions with the French side on strengthening China-France cooperation. He noted that China, France, and the EU have their own individual strengths and need to further strengthen cooperation.
The Chinese side encourages its enterprises to invest in France, and French companies are welcomed to share China's development opportunities, he added.
Macron said that France is willing to work with China to enhance coordination and deepen cooperation in various fields. In a world full of challenges, France and China should adhere to multilateralism, promote international solidarity, improve global governance, and strive to find solutions to global issues, Macron added.
>>Li rejects rhetoric of "de-risking" and "reducing dependence" on China
While meeting on Monday with leaders of the German business community, including executives from Siemens, Volkswagen, Mercedes-Benz, Schaeffler, and BASF, Chinese Premier Li rejected the rhetoric of "de-risking" and "reducing dependence" on China and urged adopting a balanced approach to the issue.
Economic globalization meant that the world economy was becoming more intertwined, but this did not necessarily mean insecurity. Li said all parties have security concerns, but it is essential to have a reasonable definition of risks and prevention. Improper handling of security issues could instead increase risks and create more significant problems, he said.
Risk prevention and cooperation are not opposites, Li said, adding that rejecting cooperation is the most significant risk, while a lack of development is the most significant security issue.
Scholz assured Li on Tuesday that Germany fully welcomes China's achievements in development and prosperity, which contribute to world peace and stability. Germany opposes any form of "decoupling", he said, emphasising that "de-risking" does not mean "decoupling" from China.
Scholz said that Germany supports two-way investment and will provide a sound business environment for Chinese companies to invest in the country.
Representatives of German companies also told Li that businesses eagerly look forward to continued and in-depth cooperation with China. The German business community is confident in China's economic development prospects and believes that China will continue to open up, they said in their meeting with Li on Monday.
Weekly Update: What are experts talking about?
The Risks of "De-Risking"
By: Carl Bildt
From: Project Syndicate
With pretty much everyone agreeing that decoupling between the West and China would be extraordinarily costly, the new buzzword in Western capitals has shifted to "de-risking." But unless policymakers clarify what that term does and does not mean, it could do more harm than good.
Can the cars we buy drive green steel production?
By: Milan Elkerbout
From: CEPS
Green steel production is starting to emerge in Europe. Most steelmakers have developed decarbonization roadmaps and announced transformational investments in green steelmaking production facilities. Some new entrants have also started construction of green steelmaking sites.
These early investments tend to be supported by project-based funding or innovation funding aimed at demonstrating new technologies. Existing early-stage innovation financing exists at Member State level as state aid but also at EU level through Horizon funding or the ETS Innovation Fund.