2023 CCCEU Europe-China Business Summit convenes over 100 companies and institutions
BOC President, Chinese Ambassador to the EU deliver keynote speeches
Brussels, June 16, 2023
The high-profile CCCEU Europe-China Business Summit took place in Brussels on June 16, 2023. Over 100 companies and organisations from both China and Europe assembled at the forum to provide insights into enhancing China-EU collaboration in green, digital, and various other sectors. Additionally, the event facilitated discussions on the present condition of the EU's business landscape.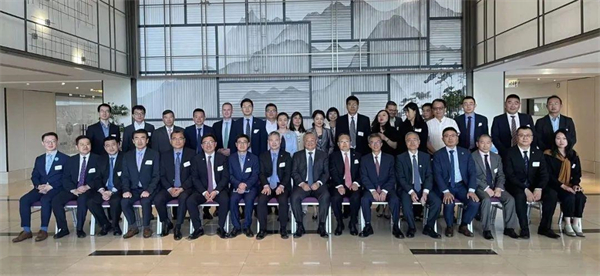 The esteemed line-up of keynote speakers included Liu Jin, President of the Bank of China (BOC), Ambassador Fu Cong, Head of the Chinese Mission to the EU, alongside Dr. Fabian Zuleeg, Chief Executive and Chief Economist of the European Policy Centre, and Gerhard Stahl, a Visiting Professor at Peking University HSBC Business School(PHBS) and Former Secretary General of the EU Committee of the Regions.
Mr. Liu said Bank of China is the most globalised bank in China and attaches great importance to the European market. As the first Chinese bank with outlet in Europe, BOC opened its Luxembourg branch in 1979 and has now covered 19 European countries. It set up an IPU in Luxembourg as EU headquarters and a shared back office centre in Hungary.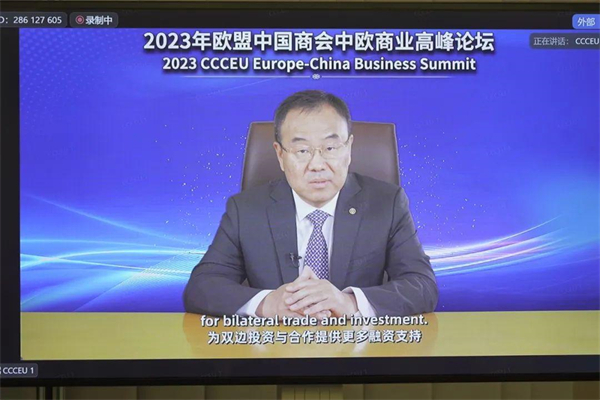 He noted that while China is continuing with high-quality opening-up in its financial sector, it would be most advisable for both sides to further boost market connectivity, expand offshore financial product offerings, and enhance cooperation on new technologies and talents to allow investors more choices and make financial services more accessible for bilateral trade and investment.
"China and the EU are two major forces, markets, and civilizations in the multi-polar world. Our relationship is important for the two sides, and also crucial for global stability and prosperity," said Ambassador Fu Cong.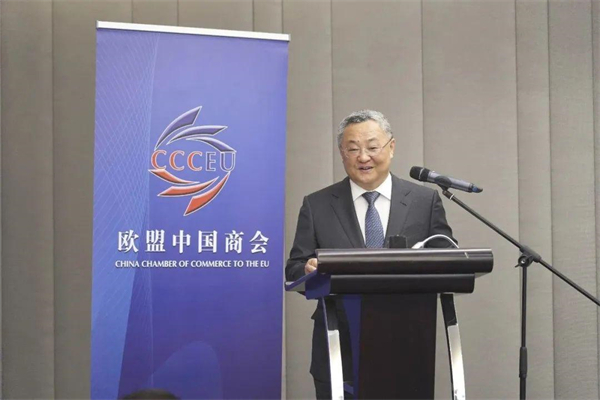 He said that China and the EU have formed a symbiotic relationship, with two-way trade increasing by 23.1% to 856.3 billion euros in 2022. "Moreover, our trade structure is more optimised, with trade in lithium batteries, new energy vehicles, photovoltaic components, and other green products growing rapidly," he noted, adding that last year, the EU invested 12.1 billion dollars in China, a significant increase of 70%, while China's investment in the EU increased by 21% to 11.1 billion dollars.
"Companies are the mainstay of China-EU cooperation. The achievements in China-EU economic cooperation and trade would not have been possible without the efforts of business friends from both sides," the ambassador said.
However, Ambassador Fu said, amid the current changing and complex situation, "it is no longer possible to cope with it alone. Only greater unity and coordination will ensure long-term success. In this aspect, the CCCEU is not only the home of Chinese enterprises, but also an important partner and a platform for opportunities."
The chamber can leverage its influence to maintain the stability of global industrial supply chains, reject decoupling and protectionism in the name of security, oppose restrictive and discriminatory trade measures, and combat the politicisation of economic issues, he stated.
Dr. Fabian Zuleeg, Chief Executive and Chief Economist at the European Policy Centre, told the audience that there are still many opportunities in the relationship between the EU and China in the economic relationship, trade and investment.
Mr. Zuleeg said that Europe is experiencing rapid transformation with regard to sustainability, climate change, technology, and demography, influencing the policy choices that are made in the EU. "We have seen it in trade policy, with many more defensive instruments being put into place. "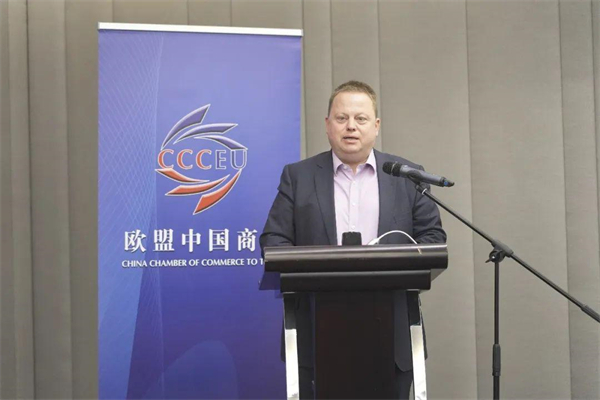 He reckoned that the influence of geopolitics and geoeconomics will continue in the EU's policy, and it is "ever more important" that Europe and China have a dialogue and open discussion around what the policy priorities are and what that might mean for business.
"Business leaders in Europe and China should not only engage in and invest in each other's markets, but they should also effectively convey to political leaders and the broader public why deepening economic relations is mutually beneficial.," said Gerhard Stahl, visiting professor at PHBS and former secretary general of the EU Committee of the Regions.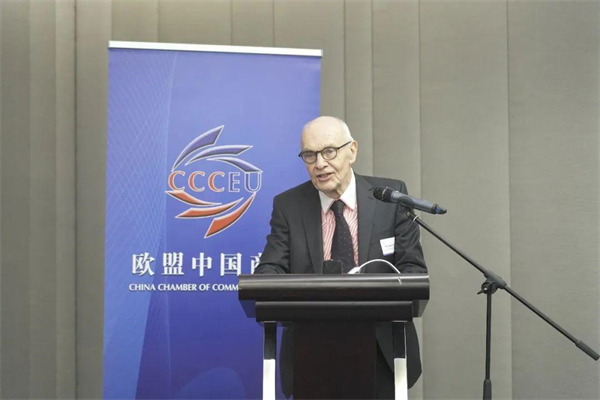 "Today's discussions will undoubtedly contribute to strengthening economic ties between China and Europe and identifying concrete business and investment opportunities. It is crucial to recognise that international trade and economic activities thrive on personal interactions. Hence, it is high time that exchanges between Chinese and European partners are reignited. The summit today offers this opportunity, he added.
Xu Chen, the recently elected Chairman of the CCCEU, took on the role of moderator for the keynote speeches. This was followed by two sessions focusing on digital and green cooperation, as well as the chambers' platform, moderated by CCCEU Secretary General Fang Dongkui.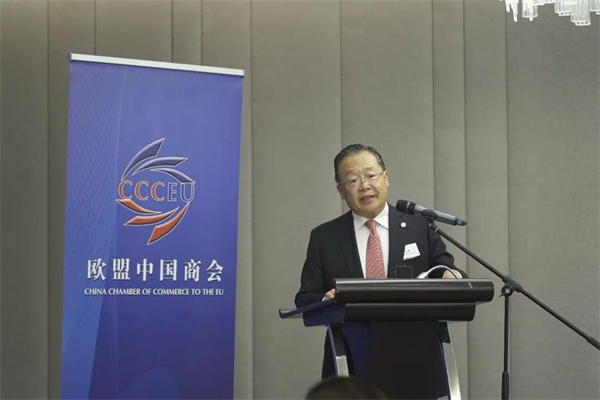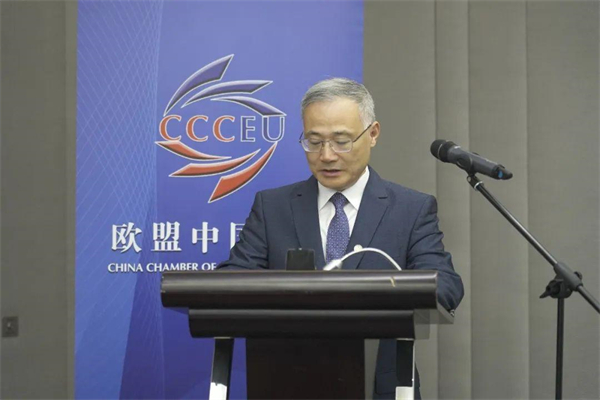 The distinguished panel of speakers at the first session included Wen Han, Vice President Public Affairs and Communications for Europe at Huawei; Zhang Hui, Vice President of NIO Europe; Dr. Fabrice Stassin, Director of Government Affairs Electro Mobility Projects and Coordinator for Asian Affairs at Umicore; Alessandra Simonelli, Head of Sustainable Development at Banque Internationale à Luxembourg; Chen Fei, Executive Vice Chairman and CEO of SINO_CEEF Capital (SINO_CEE Fund); Bu Zhong, Head and Professor, Department of Interactive Media, School of Communication, Hong Kong Baptist University; and Terence Xiong, Vice President of BGI Global Development.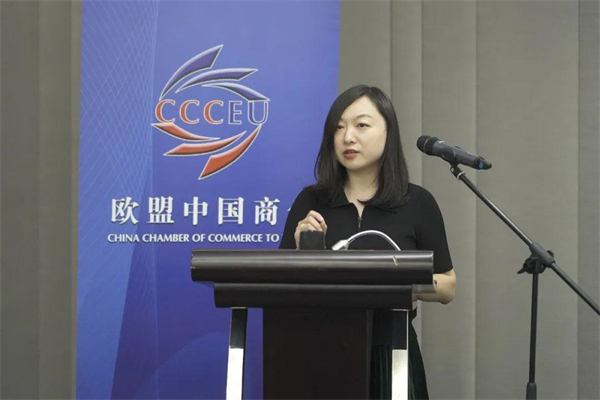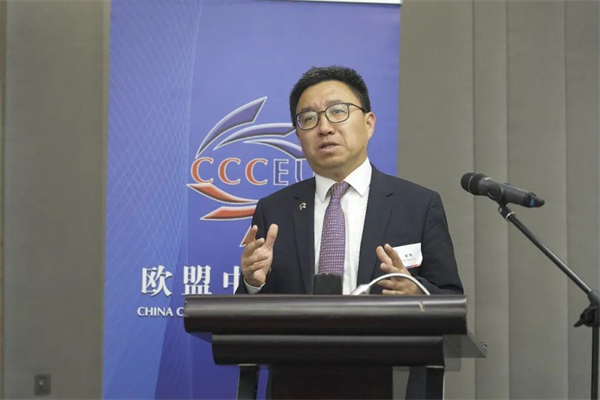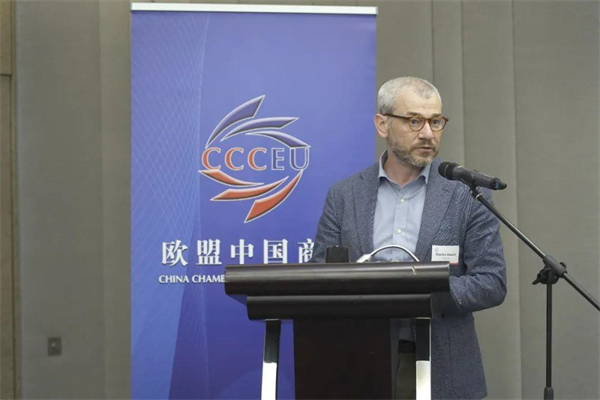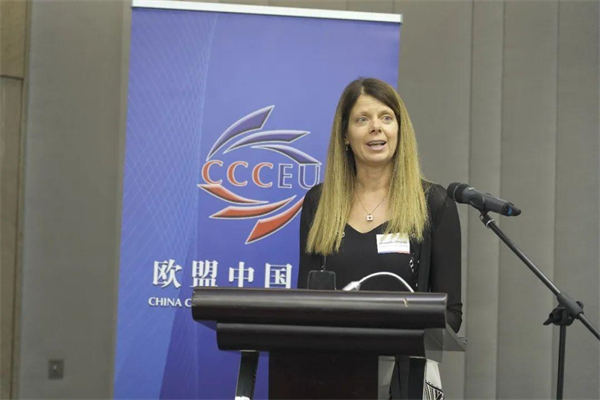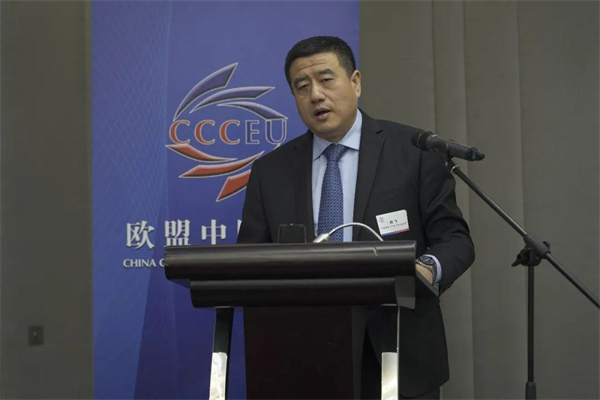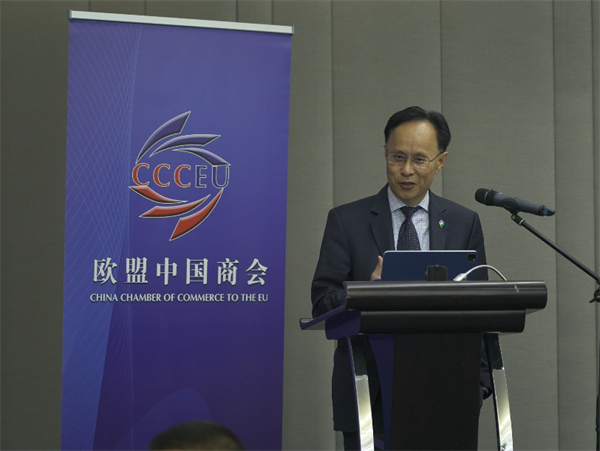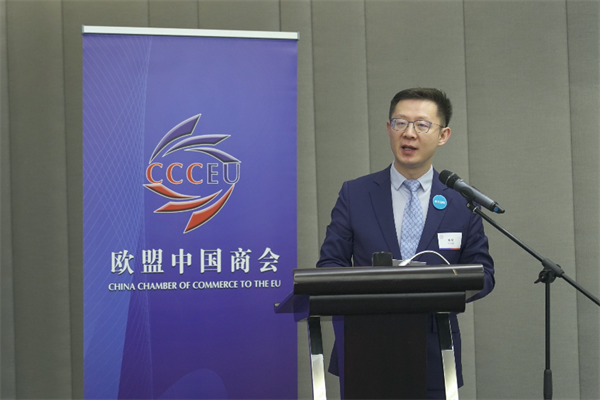 The esteemed group of participants at the second session included Xu Chen, Chairman of CCCEU; Jens Eskelund, President of the European Union Chamber of Commerce in China (via video address); He Liqin, Chairwoman of China Chamber of Commerce and Industry in France; Gwenn Sonck, Executive Director of the EU-China Business Association/Flanders-China Chamber of Commerce; Xiao Liang, Chairwoman of ASCP, Associaço de Sociedades Chines em Portugal; Bernard Dewit, Chairman of the Belgian-Chinese Chamber of Commerce; Pan Zhi, Secretary General of the Association of Chinese Investment Enterprises in the Netherlands, and Yu Zenggang, Chairman of the Chinese Enterprise Association in Greece. The Korean Business Association Europe was also present.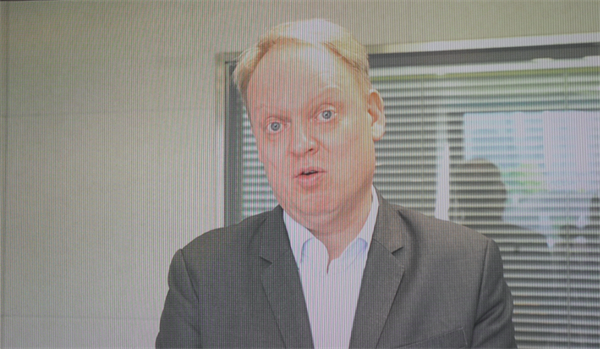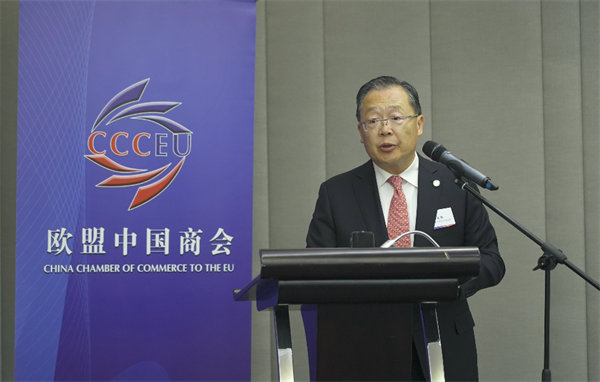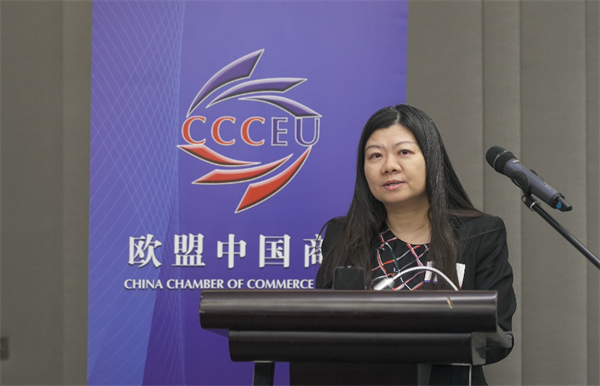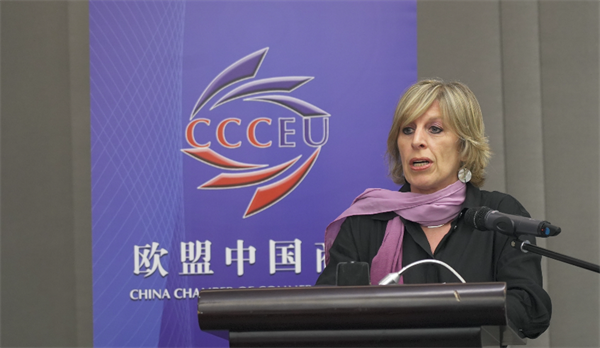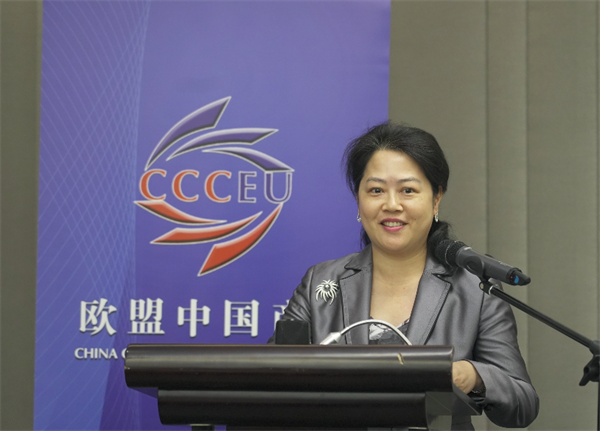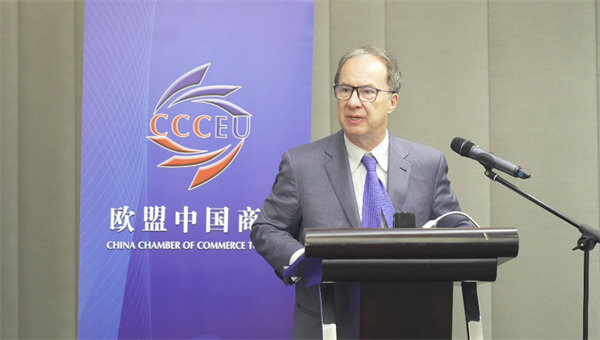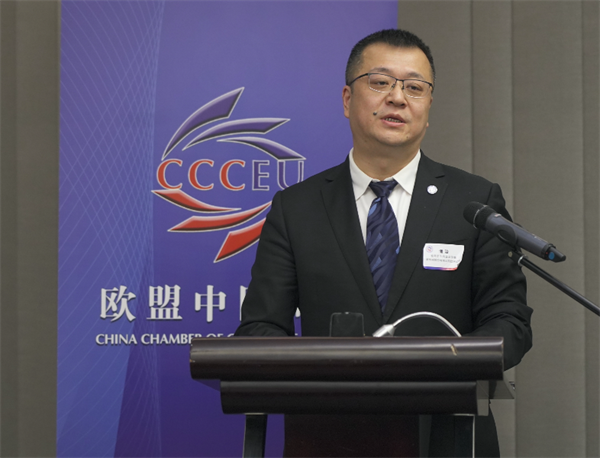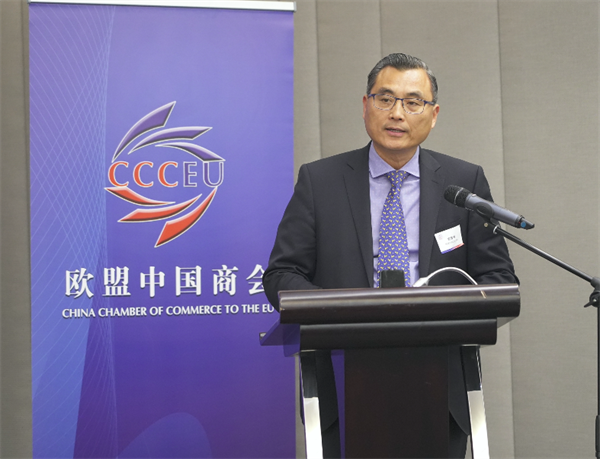 The summit drew more than 200 representatives from over 100 Chinese and European companies and organisations, encompassing CCCEU member companies and business associations as well as companies from Luxembourg, Germany, and Belgium. The event, held both in person and online, marked the CCCEU's most prestigious general meeting and summit to date. Its primary objective was to establish a prominent platform for fostering prosperous business relations between China and the EU.
On the sidelines of the event,participants, including Ambassador Fu, tested out China's cutting-edge Nio electric car. The meeting made use of the Lark video conferencing platform, which effectively demonstrated its capability to provide real-time translation.