The CCCEU Weekly Update April 5, 2023: China on the Agenda at Brussels Talks; WHO declares end to Covid-19 global health emergency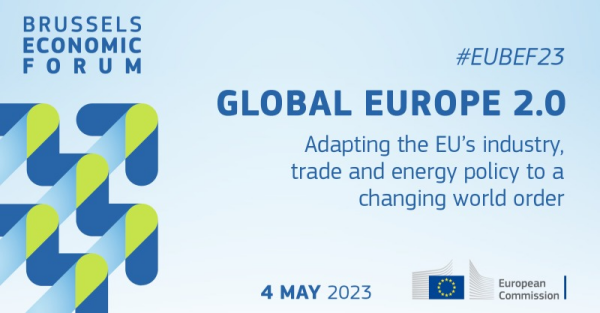 Editor's Note: Greetings! This edition of the CCCEU Weekly Update follows recent talks on China in the EU bubble. On Friday, the World Health Organization (WHO) announced that the Covid-19 global health emergency had come to a close, a long-awaited and bittersweet ending to the three-year-long saga of human suffering and sacrifice. Enjoy the moment and enjoy your reading, have a lovely weekend.

Weekly updates:Focus
Brussels Talks
The European Commission convened its flagship Brussels Economic Forum on Thursday with a focus on "building a new competitive model for Europe in the era of global tension and resource scarcity". For observers of China-EU economic ties, the afternoon session was worth a go: many joined Valdis Dombrovskis, Executive Vice President of the European Commission, to discuss Europe's relations with China under the "Globalisation Europe 2.0" panel.
"The global economy is fragmenting, which presents risks and uncertainty. But the EU response must build on openness, not protectionism. Global trade is still growing. Bolstering global ties will support our economic and geopolitical strength and build resilient supply chains." He told the full house of audiences.
The economic and trade relations between China and Europe were also a hot topic in this discussion. Dombrovskis reiterated that the EU has no intention of "decoupling" from China but hopes to "de-risk" through a series of measures such as raw material strategies for diversification.
During the discussion, he mentioned that the EU should indeed isolate certain countries and reduce its dependence on their energy, but obviously, the EU should not do so with regards to China.
He continued that China and the EU have fundamentally different social models, which makes the issues complex. The EU should control the risks that come with such complexity and further strengthen cooperation with China on issues such as climate change.
Based on the discussion and recent statements from European leaders such as Macron and Borrell, some EU officials believe that the world is undergoing a process of polarisation. The EU should maintain strategic autonomy, neither blindly following the US nor overly relying on China, while continuing to cooperate with both sides. In this regard, MEP Bernd Lange noted that the EU, as a union of multiple countries, has a natural advantage and experience in coordinating affairs, and is expected to play an active role.
However, there are still significant divergences in the strategic approach to China among EU member states. On April 18th, the European Parliament discussed this topic, with MEPs calling for an effective, consistent, and unified strategy. Josep Borrell, High Representative of the EU for Foreign Affairs and Security Policy, stressed that "although the EU and China are in rival mode, the EU needs to keep talking to China."
Ursula von der Leyen, President of the European Commission, stated that "there is clearly a need for Europe to work on de-risking some important and sensitive parts of our relationship. Europe must carve out its own, distinct approach that also leaves space for cooperation with other partners too."
At the EU Foreign Affairs Council convened in Luxembourg on April 24th, Borrell announced that the European Commission intends to review and update its strategic position on China, which was last revised in 2019, and present it to the Council for evaluation in the near future.
Currently, the details of the new EU document on China remain undisclosed. Nonetheless, from an economic standpoint, the EU may prioritise reducing dependence on China's industrial and supply chains as a key area of action.
Weekly updates: Hot Topics
WHO: COVID-19 over as global health emergency
The World Health Organisation on Friday declared an end to COVID-19 as a global health emergency, marking a major step towards the end of the pandemic that has killed more than 6.9 million people, disrupted the global economy, and ravaged communities, Reuters reported.
ECB rate hikes
The European Central Bank announced on Thursday that it had decided to raise the three key ECB interest rates by 25 basis points. Since the rate hike process began in July last year, the ECB has raised rates seven times in a row, for a total of 375 basis points.
Eurozone inflation hit 7% in April
According to a flash estimate from Eurostat, Euro area annual inflation is expected to be 7.0% in April 2023, up from 6.9% in March. Looking at the main components of euro area inflation, food, alcohol, and tobacco are expected to have the highest annual rate in April (13.6%, compared with 15.5% in March), followed by non-energy industrial goods (6.2%, compared with 6.6% in March), services (5.2%, compared with 5.1% in March), and energy (2.5%, compared with -0.9% in March).
EU's natural gas demand down in 2022
Fresh Eurostat data showed that following a 4.3% increase in 2021, inland demand for natural gas in the EU decreased by 13.2% in 2022 to 13.72 million terajoules. Demand declined in most EU countries, with the exception of Ireland and Malta, where demand increased marginally by 2.1% and 1.4%, respectively.
Total EU gas imports declined by 6.6% to 23.05 million terajoules in 2022, with Norway, Russia, the US, Algeria, and Qatar as the EU's largest sources of gas in that year.
EU agricultural trade reaches €424.7 billion in 2022
In 2022, the value of trade (imports plus exports) of agricultural products between the EU and the rest of the world reached €424.7 billion, €77.5 billion more than in 2021 (€347.2 billion). The UK and Brazil are the biggest export and import partners.
Brussels announces grain import restrictions from Ukraine
The European Commission announced on Tuesday that it would ban Ukrainian wheat, corn, rapeseed, and sunflower seeds, exports to Bulgaria, Hungary, Poland, Romania, and Slovakia, but allow the transit and export of these agricultural products to other EU member states. The measures will be put in place by early June. The move is intended to alleviate the excessive supply of these products in these five countries, which is hitting local agricultural prices, the commission noted.
NATO Innovation Fund's appointment
According to NATO's website, 22 allies participating in the NATO Innovation Fund have completed the formation of the Board of Directors. The nine directors will play a supervisory and advisory role for the NATO Innovation Fund's investment management arm. They will work to ensure that the investment strategy is executed successfully and in line with the fund's strategic objectives. The NATO Innovation Fund was launched at the 2022 Madrid Summit and is due to be operational by NATO's Vilnius Summit in July 2023.
China's May Day holiday
This year's May Day holiday saw a strong recovery in China's cultural and tourism sectors as well as a stable and orderly holiday market across the country. According to the data centre of the Ministry of Culture and Tourism, the total number of domestic tourism trips was 274 million, increasing by 70.83% year-on-year and recovering to 119.09% of the same period in 2019 on a comparable basis. Domestic tourism revenue reached 148.056 billion yuan, increasing by 128.90% year-on-year, and recovered to 100.66% of the same period in 2019, according to a comparable basis.
What are experts talking about?
Who is destroying Europe's "energy dream"?
by He Zhigao
The article points out that the "green transition" is the most economical solution to reduce energy dependence on the outside world and is the most important part of supporting the EU's energy dream.
It said that since the outbreak of the Ukraine crisis, Europe's energy system has faced unprecedented challenges. The EU has made efforts to coordinate all parties to further shift to a clean energy strategy, hoping to avoid the impact of the energy crisis. But Europe's energy dream will not go smoothly due to:
1.In terms of energy security and energy transition, the US is double-suppressing Europe. Globally, the U.S. is stepping up its projection of influence in fossil energy distribution regions in an attempt to further control the dominance of energy geopolitics. At the same time, the U.S. is also accelerating its occupation of clean energy markets in the hope of dominating the supply chain.
2.A lack of consensus makes Europe vulnerable and powerless. The different energy structures, different fossil energy import dependencies, and different economic performances of EU member states make them have different preferences for energy and climate policies.
In short, Europe's energy transition is difficult.
Judy Asks: Can Europe Forge a Common China Policy?
By Judy Dempsey (the nonresident senior fellow at Carnegie Europe and editor in chief of Strategic Europe)
From: Carnegie Europe
This article records the different views of a number of European experts, academics, and politicians on the issue, which are summarised below:
1. Europe, or at least the EU, has a common approach to China—one of treating China as either a competitor, partner, or rival depending on the circumstances,which has been proven by the example that Germany managed to push through the Comprehensive Agreement on Investments (CAI) between the EU and China in 2020.
2. So far, Europeans have made quite some efforts, and not without success, as regards, for instance, the development of trade defence instruments like the Anti-Coercion Instrument, industrial policy tools like the Critical Raw Materials Act, or connectivity initiatives under the Global Gateway umbrella. However, it's still not enough,the series of remarks by French President Macron is a good proof of this. Europeans can build hope on the basis of this obvious fact: getting China right together will determine Europe's role and success in the twenty-first century.
3. The EU is complicated. The EU is not a state; it is a collection of sovereign states that, despite the institutional hype, have not ceded control of their foreign and security policies to the EU, especially when it comes to dealing with an economic giant like China. Some member states cannot even achieve internal unity in their policies towards China, as exemplified by Germany.