BYD Signs MoU with Octopus Electric Vehicles in the UK
BYD and Octopus Electric Vehicles agree on a landmark MoU for new energy cooperation in the UK

It signals an intent from Octopus EV to purchase 5000 electric vehicles from BYD for UK customers over the next 3 years

Octopus EV will offer BYD EVs in conjunction with the Salary Sacrifice scheme
BYD, the world's leading manufacturer of new energy vehicles, has signed a Memorandum of Understanding (MoU) with Octopus Electric Vehicles Ltd. The MoU, providing the basis for a landmark new energy cooperation in the UK, underlines both parties shared vision for a sustainable future in which green energy prevails. Within the MoU, is an intent from Octopus EV to purchase 5000 new energy vehicles from BYD for UK customers over the next three years. They will be available in conjunction with the Salary Sacrifice scheme providing one of the most economical ways of leasing a BYD car in the UK. The start of this commercial relationship lays the foundations for Octopus EV to become a BYD Partner for the Salary Sacrifice scheme in the UK, with plans for further orders in the future.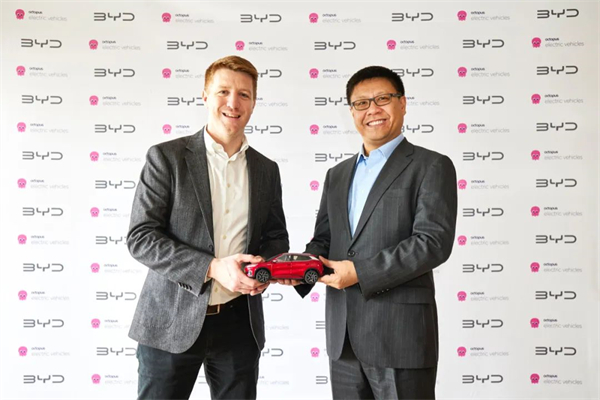 BYD & Octopus EV Cooperation Signing Ceremony
Left: Oliver Boots, Chief Commercial Officer, Octopus Electric Vehicles; Right: Michael Shu, General Manager and Managing Director, BYD Europe and International Cooperation Division
The initial order will include the BYD ATTO 3, an all-electric C-Segment SUV, making its debut in the UK in March featuring BYD's pioneering EV technology. The versatile BYD ATTO 3, combining modern aesthetics with an abundance of innovative intelligent technology, is anticipated to have wide appeal for both business and personal customers. It further enhances the increasing range of electric cars available from Octopus EV, as part of its convenient all-in-one service that includes car lease, charge point installation and specialist EV energy tariffs.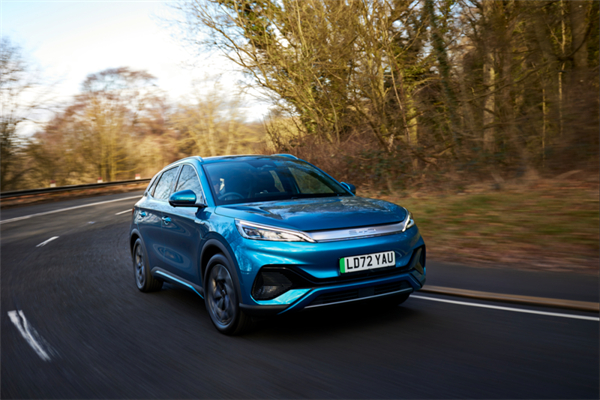 BYD ATTO 3, the first SUV built on BYD e-Platform 3.0
BYD is dedicated to empowering electrification in transportation and sustainable innovation for a clean-energy ecosystem. BYD is a global brand renowned for its pioneering expertise in power batteries and EV technology. Such dedication and knowledge have been the springboard for BYD's range of technologically-advanced electric passenger cars, designed for safety, performance and efficiency. Michael Shu, General Manager and Managing Director, BYD Europe and International Cooperation Division, said: "We are delighted to enter this cooperation with Octopus EV. This is an exciting new chapter for BYD as we bring our latest products and leading technologies to customers in the UK, as shown in our innovative range of electric passenger cars, starting with the BYD ATTO 3. BYD staunchly believes in partnerships with like-minded organisations, and our shared commitment to eMobility and sustainable innovation for a greener future endorses our mutual aims. "Oliver Boots, Chief Commercial Officer of Octopus Electric Vehicles, commented: "When Octopus Electric Vehicles launched, there were only a handful of EVs on the market - we're now at more than 85 and the figure is rising all the time. Customers have an amazing range of models to choose from, all of which are at the cutting edge of tech and are fun to drive. Being able to partner with BYD as they launch in the UK is a real milestone. They're a global leader and we're looking forward to being able to offer our 5* Trustpilot service to customers - accelerating our growth and moving us another step closer to zero-emission transport in the UK."