Hikvision shows how its commercial displays can 'Brighten every moment' at ISE 2023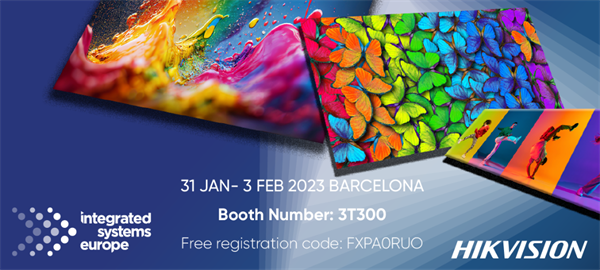 HOOFDDORP, The Netherlands — December 13th, 2022 — Hikvision will be present at ISE (Integrated Systems Europe) from 31 January – 3 February 2023 at the Fira, Barcelona in Spain. The event is the world's leading AV and systems integration exhibition, and Hikvision will be welcoming visitors to its stand (3T300) to demonstrate the latest additions to its commercial display product line. These high-quality, innovative displays are used in varied solutions across a number of industries – including improving office meetings, making education more accessible, and driving retail growth.
Visitors to ISE range from members of the AV industry supply chain (including distributors and systems integrators) to industry professionals and end users. They will be able to see for themselves how Hikvision can offer advanced products to meet their needs, even as a relatively new entrant to the Europe AV market.
In particular, the stand will be focusing on the following innovations:
LED Displays - supported by advanced technologies like automatic dehumidification, PixMaster, and blue light filtering, Hikvision LED displays provide an ideal visual solution for every need. Visitors will see various configurations of display products like the LED 4K Video Wall (made up of P0.9 Fine Pixel Pitch display units), as well as innovations like the LED poster, 54" splicing LED screen and transparent LED display.

Interactive Flat Panels - Hikvision's products take the lead in these flexible, multi-functional solutions with ultra-4K resolution, accurate on-screen writing, built-in whiteboard software, and wireless screen projection. Visitors will be able to experience displays like the massive floor-standing 86" 4K Interactive Display. The flat panels satisfy the needs of a variety of local and remote collaboration and education scenarios.
Visitors will also find at the booth a series of video conference products such as webcams, wireless microphone and all-in-one conference camera with speaker tracking, etc..
"Our drive for innovation and attention to detail means we have a range of advanced display products to show the AV industry", says Derek Yang, President of Hikvision Europe. "ISE represents a great opportunity to show what we can do to industry stakeholders – and we are excited to meet new people and raise awareness in this industry. We hope we can 'Brighten every moment' in even more solutions."
Why not join us on your way around the show. Our 110m2 stand has a lot to show you! Click here to get your free badge with Hikvision invitation code: FXPA0RUO)