Invitation | 1st China-Europe Fintech Summit on December 9, 2022 (Online)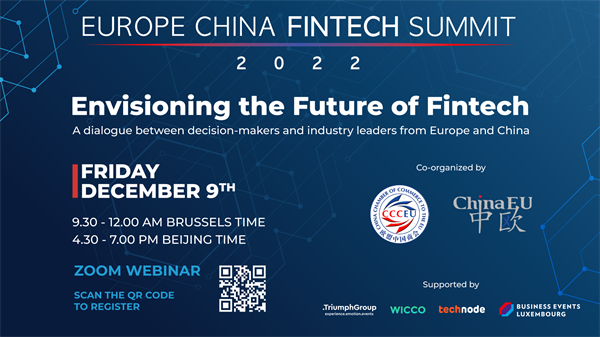 Digitalization has been profoundly revolutionising our industries, society, and way of life. China and the EU have both unveiled ambitious digital strategies in the midst of a competitive drive for technological innovation and global rule-making.
Fintech technological breakthroughs, such as mobile payments, digital currencies, and mind-blowing ideas like Metaverse, are enabling further transformation of governments, businesses, and their connections with citizens.
As China and the EU are advancing their digital partnership, we, the CCCEU, feel the urge to cultivate more dialogue and exchanges on policy-making and tech cooperation, and thus have teamed up with the reputable international association ChinaEU on the first high-level China-Europe Fintech Summit on December 9, 2022.
The virtual summit will bring together movers and shakers—the decision-makers, business leaders, tech innovators, and renowned academics—from China and around Europe to discuss the future of fintech and wider digitalization, as well as to share best practices in China and Europe.
Please don't miss it! You may register here.
Agenda