The CCCEU Weekly Update 02 December 2022: Michel's whirlwind visit could herald a thaw, hopefully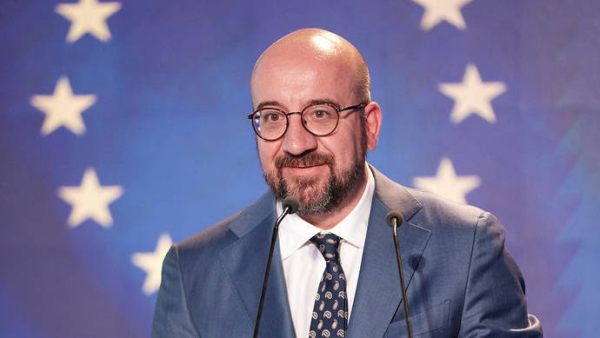 Michel's whirlwind visit could herald a thaw, hopefully
"With China, engaging openly on all aspects of our relationship is the only way forward."
Editor's Note: It is chilly in Brussels, but if you follow the China-EU dynamics, you may notice a slight warmth in the air. Mr. Charles Michel, president of the European Council, has wrapped up his much-anticipated one-day visit to Beijing, suggesting that a China-EU summit in 2023 is on the horizon. This edition of the CCCEU Weekly Update keeps you in the know of hard news key to China-EU relations. Enjoy reading and have a lovely weekend.
Xi and Michel's prolonged talks
On Thursday afternoon in Brussels, some 300 participants at the signature "Europe-China Forum" were surprised by the appearance of the EU ambassador to China, Jorge Toledo Albiana, whose hands had been full with Michel's first visit to China on the ground.
The ambassador, who had just returned from the airport where he bid Mr. Michel farewell, briefed the forum's attendees via video conference that Michel's schedule was jam-packed and that his talks with Chinese President Xi were "frank."
The planned one-hour meeting between Xi and Michel ended up lasting nearly two hours; they later met again for about one hour at a banquet. In total, the two leaders talked for about three hours, according to Toledo Albiana.
Michel's China visit was a "first" for many reasons.
-- It was Mr. Michel's first visit to China as the President of the European Council, following his visit as Prime Minister of Belgium in November 2016.
--It was the first time Chinese and EU leaders had met face-to-face since the Covid-19 pandemic broke out.
-- Michel's solo China visit also broke the EU-institution routine of an otherwise joint trip with the president of the European Commission.
-- For China, President Michel was the first EU leader to visit China since the CPC's 20th national congress.
Geopolitics, economics, and global challenges
All parties were eager to learn what important issues were discussed and what messages were delivered during Michel's whirlwind visit.
First, about the Russia-Ukraine war.
According to the Chinese readout, Chinese President Xi told Michel that under the current circumstances, it is important to prevent an escalation or expansion of the crisis, stay committed to promoting talks for peace, manage the spillovers of the crisis, and watch out for any risk of bloc confrontation.
Michel noted that he had urged China to use its influence on Russia to respect the UN charter, adding that the two leaders agreed that nuclear threats should not be acceptable and highly dangerous, and endanger the international community.
Second, China-EU economic relations emerged as a key topic at the talks in the context that China has overtaken the U.S. and remained the bloc's biggest goods trading partner. What is reassuring to the business community is that they did exchange concerns over each other's ease of doing business.
"While China will stay open to European businesses, it would like to call on the EU to stay free from disturbances and provide Chinese companies with a fair and transparent business environment," Xi was quoted as saying.
"China is our top trading partner in goods amounting to almost EUR 2 billion every day and China accounts for over 22% of European imports. China's growth in recent decades has benefited both China and the EU and has contributed substantially to China's dramatic economic transformation," Michel said, adding that "We believe in free trade, in cooperation; but we need balance and fairness."
The third major topic was global issues, including climate change, energy crisis, food security, health, and the Sustainable Development Goals.
Xi said that China and the EU need to steer the global response to climate change and efforts for biodiversity protection, energy and food security and public health, among others, and strengthen synergy and coordination of each other's quality public goods and cooperation platforms.
"We can only meet the challenges of climate change globally and this cannot be done without China," said Michel. "On health, we are cooperating on the initiative for a Pandemic Treaty. This is a concrete example of international cooperation."
"With China, engaging openly on all aspects of our relationship is the only way forward. We agreed to continue our exchanges in light of the next EU-China Summit in 2023," Michel noted.
Geopolitical tensions, energy crisis, economic slowdown... The EU is facing many of its own challenges, and observers have been urging the EU to break free from the constraints of its three-pronged China strategy. Now is probably the time for the EU to reflect and calibrate its China approach.
The EU is looking at seizing $330 billion in frozen Russian assets and investing them
European Commission president Ursula von der Leyen said Wednesday that the trading bloc had already blocked about 319 billion euros ($330 billion) that could be reinvested.
"We have the means to make Russia pay," she said in a statement. "We have blocked 300 billion euros of the Russian central bank reserves and we have frozen 19 billion euros of Russian oligarchs' money."
"In the short term, we could create, with our partners, a structure to manage these funds and invest them," von der Leyen added. "We would then use the proceeds for Ukraine."
Euro zone inflation rate eases slightly to 10% as surge in energy prices slows
According to CNBC, the initial data Wednesday from Europe's statistics office showed headline inflation at an annual 10% this month — representing a 0.6 percentage point fall from October. In October 2022, the euro area seasonally-adjusted unemployment rate was 6.5%.
Energy and food continued to contribute to the lofty inflation figures, but with a noticeable drop in the former. Energy is expected to have stood at an annual rate of 34.9% in November, compared with 41.5% in October, according to Eurostat.
Eurostat Reveals Increase in EU R&D Investment to €328 Billion in 2021
New data on R&D expenditure published by Eurostat shows that in 2021, the EU spent €328 billion on research and development (R&D), up 6% compared with the previous year (€310 billion). Compared with a ten-year period ending in 2011, there was a 43.9% increase in spending.
Among the EU Member States, the highest R&D intensity in 2021 was recorded in Sweden (3.35%), followed by Austria (3.22%) and Belgium (3.19%). Six Member States reported R&D expenditure below 1% of their GDP in 2021: Romania (0.48%), Malta (0.65%), Latvia (0.71%), Bulgaria (0.81%), Cyprus (0.89%) and Slovakia (0.95%).
EU green energy product imports: €13.8 billion
According to Eurostat, in 2021, the EU spent €13.8 billion on imports of green energy products (including wind turbines, solar panels and liquid biofuels) from countries outside the EU. Specifically, the EU imported €9.8 billion worth of solar panels, €3.4 billion worth of liquid biofuels and €0.6 billion worth of wind turbines from countries outside the EU.
Drone Strategy 2.0: Creating a large-scale European drone market
According to the European Commission, the European Drone Strategy 2.0, adopted by the Commission on November 29, sets out a vision for the further development of the European drone market. Since 2003, the EU has invested almost €980 million in the development or use of drones for innovative applications. It has funded 320 projects relating to drones under its research and innovation.
What are experts talking about?
"The current European economy and bailout initiatives" is an interview with Sun Yanhong, director of the European Economic Research Office and researcher at the Institute of European Studies, Chinese Academy of Social Sciences, with People's Daily. The article points out that the European regulatory measures are short-term and contingent, and there may not be a serious energy cut-off in Europe this winter. However, there is a lack of synergy in the policies of European countries, and there are still obvious internal differences. In the long run, whether the European economy can get out of trouble, depends on the energy transition progress, geopolitical situation and other multiple factors.
"Global factors and ECB monetary policy" was published by the think tank of the European Parliament. The author is Karl WHELAN. The euro area's current high inflation rate is due to both internally generated demand pressures and external shocks that have raised food and energy prices. This paper argues that the latter element is more important than the former. Central banks need to tighten monetary policy to address high inflation but, with central banks around the world under pressure to restore their anti-inflationary credentials, it is possible that there is going to be too much tightening of global financial conditions.
Please note: the English version of this issue is slightly different from our Chinese one. The views and opinions expressed in this article do not necessarily reflect the official position of the CCCEU.