CCCEU Chairman speaks at 2nd China-EU Track Two High-Level Dialogue
The second China-EU Track Two High-Level Dialogue, co-hosted by the Chinese People's Institute of Foreign Affairs (CPIFA) and the renowned Brussels-based think tank European Policy Centre, was held successfully on November 22, 2022.
The half-day hybrid conference was themed "China-EU relations under the backdrop of challenges unseen in a century" and jointly moderated by CPIFA Vice President Shi Ling and EPC Chief Executive Fabian Zuleeg.
Mr. Liu Qibao, vice chairman of the 13th CPPCC National Committee and President of the China-EU Association, and Mr. Herman Van Rompuy, President of the EPC and former President of the European Council, co-chaired the conference and delivered speeches. Xu Haifeng, Chairman of the CCCEU, participated in the event via video link and spoke during the discussion.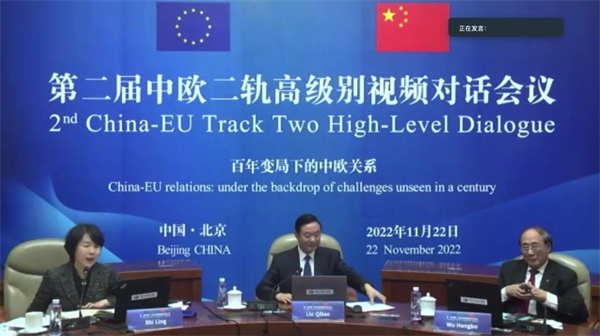 The 2nd China-EU Track Two High-Level Dialogue takes place on 22nd of November, 2022. Source: CCCEU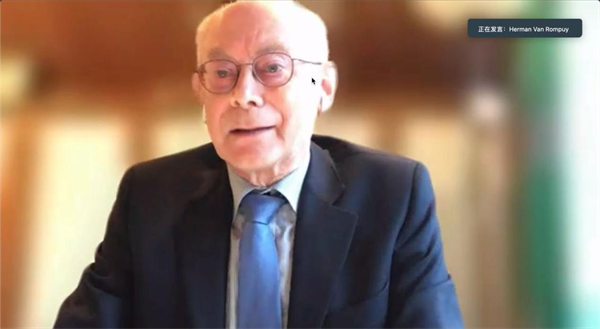 Former European Council President Van Rompuy attends and addresss the 2nd China-EU Track Two High-Level Dialogue. Source: CCCEU
China and the EU should maintain the "correct perception" of their relationship, which remains essentially a comprehensive strategic partnership, Liu said, adding that the two sides should keep an open line of communication and properly control their differences.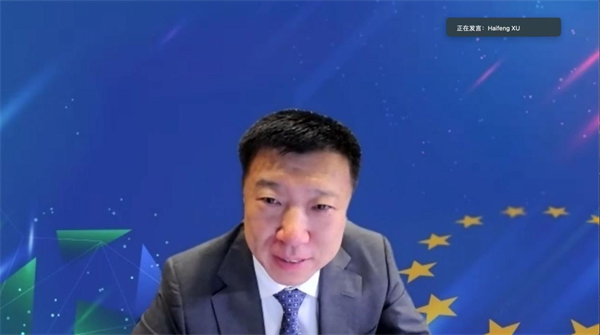 CCCEU Chairman Xu Haifeng speaks at the 2nd China-EU Track Two High-Level Dialogue via video link. Source: CCCEU
More than 20 prominent delegates, including Mr. Wu Hongbo, Special Representative of the Chinese Government on European Affairs; Mr. Zhu Guangyao, former Chinese Vice Minister of Finance; and Mr. Kelleher Declan, former Ambassador of Ireland to China, had in-depth discussions on the topics "Joining hands to promote stability" and "Cooperation for growth."
At the second panel, Mr. Xu commented on the significance of China-EU economic and trade relations and Europe's growing importance in Chinese companies' global expansion. He expressed the hope that the EU will provide Chinese enterprises in the bloc with a fair and non-discriminatory business environment.
CCCEU also participated in the first China-EU Track Two High-Level Dialogue, which was held in September 2021.