The CCCEU Weekly Update 11 November 2022: German vetoes & Xi-Macron Meeting
EP approves FSR, CSRD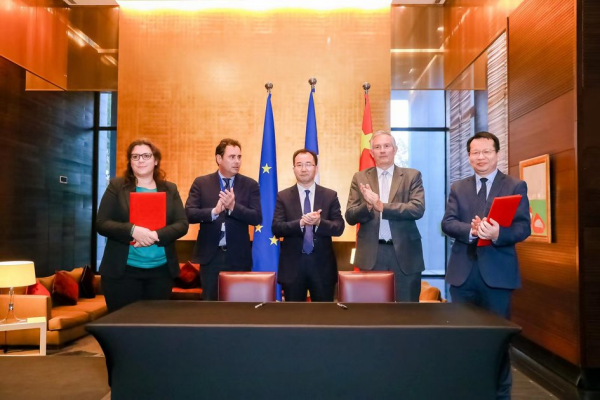 German vetoes & Xi-Macron Meeting
EP approves FSR, CSRD
Editor's Note: The Chinese business community urges Europe to provide an open and non-discriminatory environment for Chinese investors after the German authorities reportedly blocked two takeovers. Plus, all eyes are on the upcoming G20 summit, when EU and Chinese leaders may meet in person. The CCCEU Weekly Update keeps you posted on China-EU dynamics. Enjoy reading and have a lovely weekend.
German U-turn detrimental to foreign investment
It was utterly upsetting for the business community to witness the flip-flopping of the German authorities in just a few days. The German Federal Ministry for Economic Affairs and Climate Action, according to German company Elmos, indicated that it would approve the takeover by Silex, a Chinese company's Swedish subsidiary, after ten months of review.
The German Federal Cabinet, however, prohibited the acquisition "immediately before the end of the review period," citing "national security" concerns. The decision was made without granting Silex and Elmos the required hearing, according to Elmos.
The dramatic U-turn laid bare the discriminatory treatment towards non-EU companies and could violate the lawful rights of involved parties. It not only largely undermines the credibility of the relevant German authorities but also pours cold water on foreign investors' perceptions of EU investment and business environments.
Apart from the Elmos-Silex case, Berlin was reported to have blocked investment in Bavaria-based ERS Electronic. ERS Electronic said there was no plans to sell the company but it had been exploring the option of getting investment from a Chinese private equity firm.
Xi to meet Macron, Biden
Chinese President Xi Jinping will meet with his French counterpart Emmanuel Macron and U.S. counterpart Joe Biden and attend the G20 summit in Bali, Indonesia, and the APEC summit in Thailand next week, China's foreign ministry said on Friday.
Xi will as well meet with Senegalese President Macky Sall, Argentine President Alberto Fernandez, among others, according to the Ministry. It remains to be seen whether the Chinese president will meet with President Michel of the European Council in person.
China relaxes certain covid-19 restrictions
On Friday, China announced the relaxation of some of its COVID-19 restrictions, including shortening the quarantine period for international arrivals from seven days down to five, followed by three days of isolation at home, and scrapping snap closures of flight routes.
China's National Health Commission said it was abolishing the requirement to identify and isolate "secondary close contacts." China Daily has more.
A day earlier, the Standing Committee of the Political Bureau of the Communist Party of China (CPC) Central Committee met to hear a report on COVID-19 response, discuss and arrange 20 measures to further optimise epidemic prevention and control work. Xinhua has the story.
EP gives green light to FSR, CSRD
On Thursday, the European Parliament voted overwhelmingly in favour of the EU's foreign subsidies regulation (FSR) and Corporate Sustainability Reporting Directive (CSRD).
The FSR will make foreign companies' concentrations brace for tighter scrutiny on foreign financial support in addition to antitrust and FDI reviews. The Council of the EU is expected to approve the legislation on Nov. 28. Law firms have cautioned foreign companies in the EU to identify foreign financial support starting in 2020.
MEPs also adopted CSRD, which requires all large companies in the EU to disclose data on the impact of their activities on people and the planet and any sustainability risks they are exposed to. EU member states are scheduled to approve it on November 28 as well.
EU almost doubles LNG purchases year-on-year
From January to October 2022, 27 EU countries purchased 105 billion cubic meters of liquefied natural gas (LNG). This is evidenced by the data of the company Kpler, which leads RBC. For the same period in 2021, the EU purchased 64 billion cubic meters for the entire last year – 78 billion cubic meters.
Europe could risk gas shortage in 2023: IEA
According to Xinhua, Europe could face a shortage of as much as 30 billion cubic meters (bcm) of natural gas during the key summer period for refilling its gas storage sites in 2023, the International Energy Agency (IEA) warned on Thursday.
EU proposes €18 billion loan to Ukraine for 2023
According to The Brussels Times, the European Commission has proposed an aid package worth €18 billion for Ukraine to be paid out over the course of 2023.
In a press release published on Wednesday, the Commission called the support package "unprecedented", and claimed that it would "help cover a significant part of Ukraine's short-term funding needs for 2023," currently estimated to be around €3 to €4 billion.
China, France sign grant agreement for biodiversity fund
A signing ceremony of the EU-China Biodiversity Fund Grant Framework Agreement is held at the residence of the French Ambassador to China in Beijing on November 4. China firmly supports the multilateral governance system for biodiversity.
Beijing responds to Borell's remarks
Mr. Josep Borrell, High Representative of the EU for Foreign Affairs and Security Policy, has said in an article that "For the EU, China remains, simultaneously, a key economic partner, an overall competitor, and a systemic rival...We have to manage competition with China across all areas, and at the same time aim for constructive cooperation...in our interest."
In response to a journalist's question on this, Chinese Foreign Ministry spokesperson Zhao Lijian said that China and the EU have "broad converging interests, a long-accumulated foundation for cooperation, and highly complementary strengths for development."
"There is competition between China and the EU, but our cooperation far outweighs competition. Healthy competition between China and the EU helps accelerate our respective development," he noted, adding that Beijing hopes that Brussels can view China-EU relations in an objective and rational light.
What are experts talking about?
"Maintaining Communication and Reducing Misjudgment to Ensure Stable and Prosperous Sino-German Relations" by Huang Mengmeng, was published by the Chinese Academy of Social Sciences. On November 4, German Chancellor Scholz led a delegation of 12 senior executives from German multinational companies to China. According to the article, Scholz's visit releases positive signals of Sino-German engagement, and in the complex and changing international situation, high-level exchanges between China and Germany will lead the way to ensure that bilateral relations will not yaw.
"Germany's Energy Policy Adjustment in the Context of the Ukraine Crisis: Trends and Prospects" is a report released by the Center for Strategic and Security Studies of Tsinghua University. The report points out that Germany, as a world industrial power, has always regarded energy strategy as the lifeblood of its national development. Due to its relative lack of energy, Germany attaches particular importance to the security of energy supply and has been exploring the path of energy development. However, since the escalation of the Ukraine crisis, Germany has experienced a shortage of supply and soaring prices, highlighting the complexity and long-term nature of its energy transition. This report focuses on the adjustment of Germany's energy policy in the context of the Ukraine crisis, and provides an outlook on its future.
"The European Union Industrial Strategy: Reconciling Competition and Geoeconomic Challenges" was published by the French Institute of International Relations (ifri) .The author is Marie KRPATA. The article points out that the EU's basic assumptions, on which it grounds its economic and trade power, are being steadily cast into doubt. The EU's main trade partners, the US and China, increasingly set their sights on securing their supply chains, which may further a potential decoupling. The article also points out that this shift is likely to be accelerated in the context of growing geopolitical instability. This shift is likely to be accelerated in the context of growing geopolitical instability. While the EU is developing strategies, policies, and instruments to adapt to this change of circumstances and increase its resilience, a shift in mentalities, leaving behind political and economic short-term interests, will be necessary.
Please note: the English version of this issue is slightly different from our Chinese one. The views and opinions expressed in this article do not necessarily reflect the official position of the CCCEU.