CCCEU Chairman attends EU-China Forum on Innovation
Brussels, 15th July 2021: Today the CCCEU Chairman, Mr. Xu Haifeng, participated as a speaker in the EU-China Forum on Innovation, which was organized by the EU-China Business Association (EUCBA).
Ambassador Gabor Baranyai, Deputy Permanent Representative of Hungary to the EU, opened the event with his introductory remarks. Ambassador Baranyai stressed the importance of innovation as an engine re-starter in the post-pandemic recovery: in 2020, the EU institutions and EU countries decided to dedicate at least 20% of their stimulus money to the digital transition, thus putting digital at the core of their recovery plans alongside green. He also added that, since they are key actors in research and innovation, the EU and China could benefit greatly from more intense cooperation with each other.
Mr. Jochum Haakma, Chairman of EUCBA, stressed the importance of cooperation among European and Chinese businesses for their mutual benefit. Companies from China and Europe should work together and share their innovative best practices, because innovation drives a stronger economic output, for the benefit of companies and local markets.
The event was also attended by Mr. Abraham Liu, Huawei's Chief Representative to the EU Institutions; Ms. Sara Medina, Member of the Board of the Sociedade Portuguesa de Inovação; and Dr. George Tzogopoulos, Director of EU-China Programme at the Institute of European and International Studies. Ms. Gwenn Sonck, Executive Director of EUCBA, moderated the event.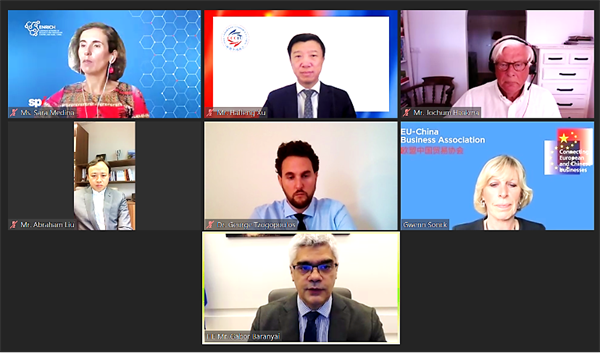 Chairman Xu first spoke about the role of Chinese companies in supporting the development of higher levels of innovation in Europe. He pointed out that Chinese companies are active in technological development, as shown by the number of patents granted to or applied for by Chinese enterprises, which has been on a steady rise, from 4,000 patents in 2013 to approximately 9,000 patents in 2018. China now ranks third among non-EU countries applying for EU patents, and the number of patents granted by the EU to Chinese enterprises tripled in the period 2013-2017.
Chairman Xu also highlighted that Chinese and European enterprises join hands in technical cooperation in order to achieve and promote joint technological breakthroughs. As an example, he quoted the electric vehicle industry in Germany, where Chinese companies are engaging with their German partners to create the new generation of intelligent electric vehicles.
In addition, he showed how Chinese companies are also establishing R&D centres in Europe to conduct research and to bring the latest technology from China to Europe. For example, as per our 2019 CCCEU Report, Huawei set up more than 23 research institutions in 14 EU countries, grouping altogether 2,383 R&D employees. At the same time, thorough training and education, Chinese enterprises support the education of talents and the development of human capital in European countries, helping them increase their competitiveness.
Chairman Xu then spoke about the fact that Chinese enterprises invest capital in research projects in Europe, thus playing a key role in improving research and innovation capabilities, and in promoting industrial technological breakthroughs. For instance, CRRC Corporation Limited set up the "Sino-German rail technology joint R&D centre", which conducts researches on lightweight of purely electric cars and on multi-material space framework lightweight platforms, with an overall investment amounting to 36 million euros.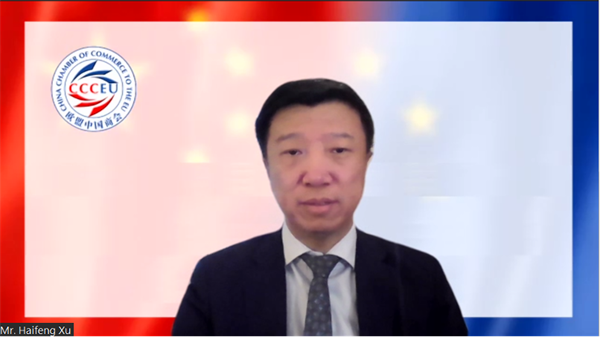 Chairman Xu also spoke about the challenges that CCCEU members face as they seek to build up stronger partnerships with EU companies within the innovation field. In this regard, he highlighted that 5G security and the digital transition are the main concern for the Chinese business community in the EU. In particular, restrictions justified with cybersecurity concerns have curbed the innovation and development of Chinese enterprises in the European market. When implementing the EU toolbox on 5G Cybersecurity created by the European Commission, some EU member states failed to adopt solely technology standards, and rather treated technology suppliers from non-EU countries in a discriminatory manner, even labelling them as high-risk businesses. Some Chinese enterprises are worried that the EU's approach to 5G security will have a negative impact on the activities of Chinese enterprises and on the European market itself.
The Chinese business community is also worried that some legislative proposals in the EU might create obstacles to investment and economic activities - for instance, the foreign subsidies review which is under discussion in the EU institutions. In this regard, Chinese enterprises are concerned about the negative impact of EU legislation on their economic activities, and on the overall openness of the EU market to foreign investors. Likewise, the foreign subsidies review and the foreign investment review have an unpredictable impact on the companies' efforts for research and innovation. Chinese enterprises in Europe hope to that the level playing field will be ensured for all companies active in the EU market, that the business environment will remain friendly to foreign investors, and that more development opportunities for innovation and employment in Europe can be created.
"As CCCEU we are confident that, in the new investment wave linked to NextGenerationEU, Chinese enterprises will join hands with their European friends and partners in harvesting the fruits of the upcoming economic expansion, and in supporting the continent's economic recovery", said Chairman Xu in his remarks.
"EU-China cooperation in the field of innovation is moving towards a historical phase", he added, quoting three supporting considerations. Firstly, China and the EU have many common interests and goals in terms of research and innovation: not only are they key partners for each other, but they are also discussing cooperation on the matter. Secondly, Chinese companies are ready and eager to engage with more European partners in research and innovation: with their know-how and products, they can pave the way to more discoveries and better technologies for the benefit of citizens and of the economy. Thirdly, the EU has prepared and ambitious recovery programme, which also promotes research and innovation under Horizon Europe. The foundations for the economic recovery have been laid, and they include more opportunities and cooperation on innovation.
As a platform for dialogue and cooperation between China and the EU, the China Chamber of Commerce to the EU welcomes closer dialogue and opinion exchanges on these topics, in particular on how to achieve a fair competitive market for all companies and economic actors.