CCCEU Digital Economy Working Group discusses EU policies online
On May 26, 2021, the CCCEU Digital Economy Working Group held an online meeting to discuss the EU's recent digital policies and their impact on Chinese enterprises in Europe. CCCEU Chairman Mr. Xu Haifeng attended and spoke at the meeting, which was chaired by Mr. Kong Yu, the coordinator of the working group.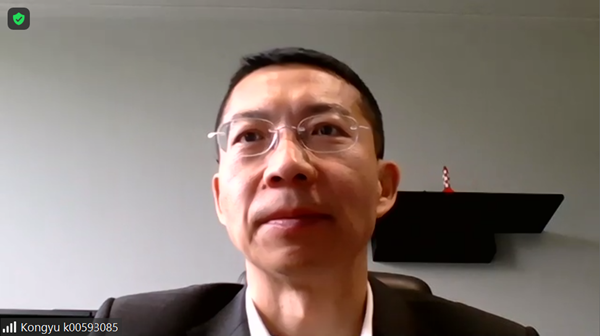 Mr. Kong Yu, the coordinator of CCCEU Digital Working Group, chairs the meeting. Photo:@CCCEU
Kong Yu briefed the meeting on recent EU policies including the updated new industrial strategy, Europe's Digital Decade, the Digital Services Act, the Digital Markets Act, and the new AI regulation, summarizing the barriers and obstacles encountered by Chinese enterprises in Europe.
He called on China and the EU to increase policy coordination on the global governance of cybersecurity, and the business community to strengthen communication and dialogue with all parties and express relevant opinions and demands promptly.
The participants held the view that although the EU digital transformation brings opportunities for Chinese enterprises, there are various restrictions in the European market. Members of the CCCEU Digital Economy Working Group will closely follow the progress of relevant EU policies, adjust their business accordingly, and enhance dialogue with all parties to safeguard their interests.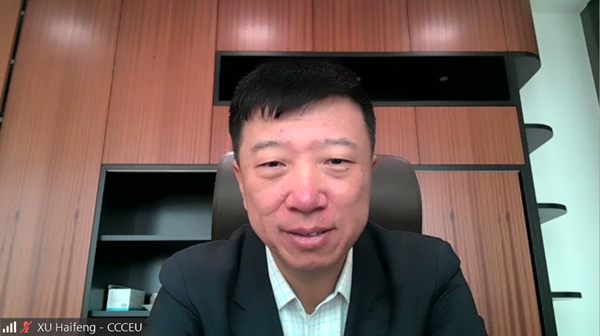 CCCEU Chairman Mr. Xu Haifeng speaks at the meeting. Photo:@CCCEU
CCCEU Chairman Mr.Xu Haifeng said that the Digital Economy Working Group, established in September 2020, is the first working group established by the Chamber, highlighting the importance CCCEU attaches to promoting China-EU cooperation on digital economy and safeguarding the rights and interests of Chinese enterprises in the digital domain. During exchanges with EU institutions, the Chamber has promptly conveyed the major concerns of Chinese enterprises on digital policy, which has attracted the attention of many parties.
Mr. Xu expects the Working Group to be mindful of the EU's relevant regulations, increase its influence via fruitful deliverables, and make its voices better heard in the EU.
In October 2020, the Working Group held its first meeting to discuss the Global Initiative on Data Security proposed by China and response to the development that some MEPS issued a joint letter listing Huawei and ZTE as high-risk suppliers and claiming security threat of their technologies in the European 5G network. The Chamber submitted a written statement to the European Commission and received feedback from the EU's executive arm.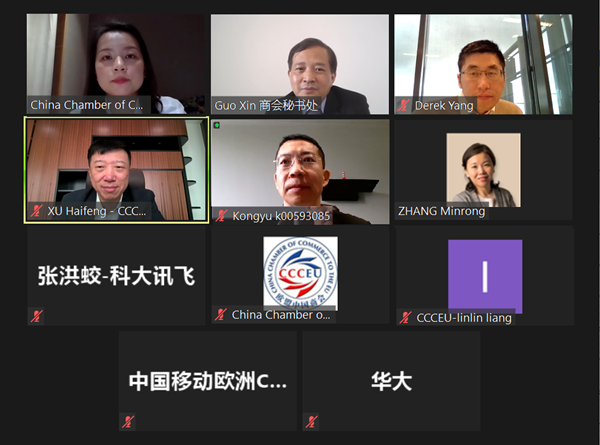 CCCEU Digital Economy Working Group holds an online meeting. Photo: @CCCEU