Media Press Release Video CTG powers China's ambitious carbon emission goal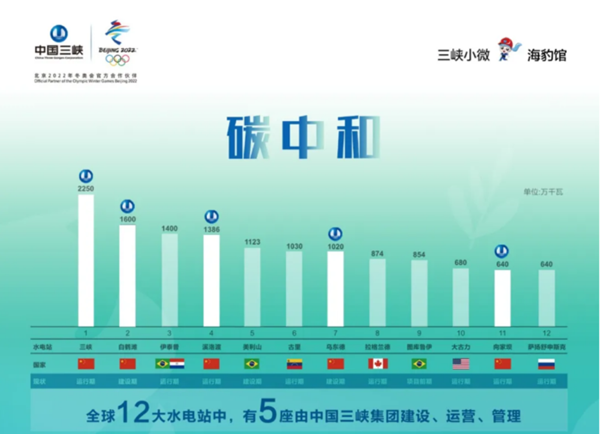 China has pledged to achieve carbon dioxide (CO2) emissions peak before 2030 and carbon neutrality before 2060. The country's 14th Five-Year Plan and 2035 Vision has proposed that China will promote clean, low-carbon, safe and efficient use of energy, accelerate the development of new energy, environmental protection and other industries, as part of its efforts to drive green transformation of economic and social development.
As the world's largest hydropower developer and operator and China's largest clean energy group, China Three Gorges Corporation (CTG) has been actively promoting the upgrade of clean energy industry and enhancing its core capabilities in hydropower.
It is steadfastly committed to its strategy of leading the development of offshore wind power and optimizing its onshore new energy businesses, and to exploring new energy-related technologies, business models and industry forms.
To that end, CTG strives to achieve energy conservation and emission reduction targets through hydropower project construction funded by green finance. To date, CTG has issued a total of RMB 3 billion of carbon-neutral bonds on the China Interbank Bond Market and the stock exchanges, and the proceeds will be mainly used to finance the construction of the CTG-owned Baihetan hydropower station, the largest hydropower station under construction in the world.
The company is also committed to becoming a responsible corporate citizen that contributes to clean energy development and promotes green and low-carbon life. Recently, CTG issued a public letter, Co-creating a Beautiful Home for Mankind by Pursuing Green and Low-carbon Life, calling on its domestic partners and counterparts in the energy sector to join forces to drive green development.
Looking forward, CTG will play an instrumental role in building a clean, low-carbon, safe and efficient energy system in China, helping the country to achieve its CO2 emission peak and carbon neutrality target.