Expo helping foreign firms tap China market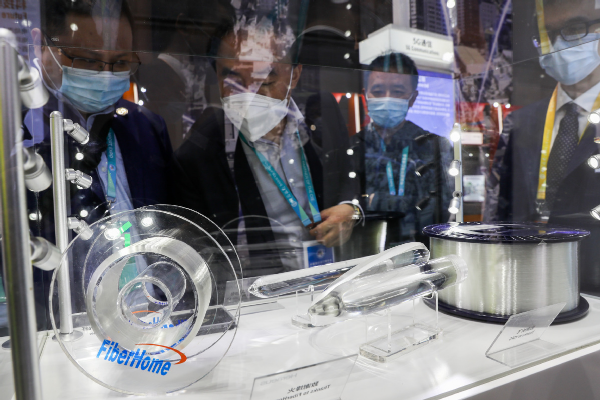 Visitors observe a 3-meter-long stick made of optical fiber raw quartz material produced by Heraeus at the third CIIE. [Photo/China News Service]
Foreign businesses that attended the third China International Import Expo in November are working hard to materialize deals inked during the event as they seize opportunities in a market enjoying the highest growth worldwide among major nations as the COVID-19 pandemic continues to rage around the globe.
Honeywell is following up on a deal signed with Juhua Group to help the latter establish a dedicated management system-based on an agreement reached during the third CIIE late last year.
US-based Honeywell announced on Dec 24 that a Juhua unit in Zhejiang province has successfully obtained a bronze certification-an in-house benchmark indicating a critical phase achievement for key projects.
Honeywell China President Scott Zhang said the software and knowledge system-Honeywell Excellence System-is a solution tailored to customers' existing systems. It includes corporate strategy development, talent development and operating process management to help clients improve performance indicators and optimize decision-making.
"China's digital economy has undergone rapid changes due to COVID-19, and we believe our software-industrial technologies will play a role in helping customers adapt to these changes," Zhang said.
Just one month after the third CIIE, German technology company Heraeus is stepping up localization efforts by entering into an agreement with Fudan University in Shanghai.
The pair vowed to jointly develop key technologies for semiconductors, an indication of enhanced commitment to the Chinese market, said Ai Zhouping, the company's president in China.
"With China being one of our most important markets, we are deeply rooted here with localized production and sales for more than four decades. We have driven intensified localized innovation initiatives with customers and partners to secure our long-term success," Ai said.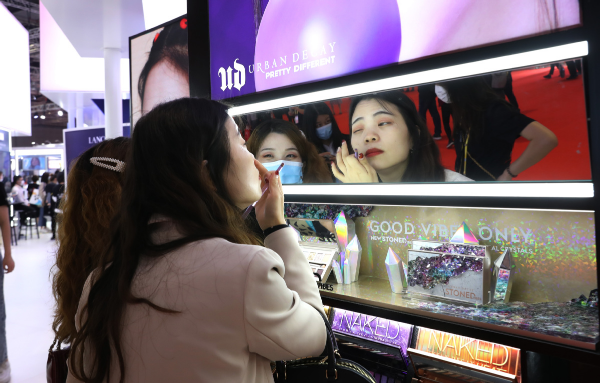 Visitors try out cosmetics at the exhibition booth of L'Oreal Group at the third CIIE. [Photo/Xinhua]
As a third-time participant, Ai said the CIIE provides a highly unique platform for presenting Heraeus' latest technologies, allowing in-depth exchanges and dialogues with key partners and increasing media visibility.
"We look forward to the CIIE 2021 which is high on our agenda. Now we are close to finalizing the contract for participation, and mulling expanding our booth by 10 to 20 percent from last year's event," he added.
According to the CIIE Bureau, intention agreements secured during the third CIIE hit $72.6 billion. That was 2.1 percent higher than the prior year despite the pandemic's heavy toll on global trade and investment.
The exhibition showcased 411 new products, technologies and services, with nearly 80 percent of Fortune 500 and industry-pioneering companies signing up for consecutive participation.
Promotional videos and photos showed halls full of consumer goods, covering more than 90,000 square meters, which occupied the largest space among all sectors.
Skincare and beauty company L'Oreal Group is on course to introduce a virtual reality facility in a pop up stand in Shanghai.
The technology, displayed during the recent CIIE, will be adopted for the first time in an offline venue during a global product launch by its Maybelline brand, said Fabrice Megarbane, president of L'Oreal North Asia and CEO of L'Oreal China.
As a follow-up event, the launch represents the dual debuts of both products and technologies and serves to support the upcoming Spring Festival spending spree, he said.
At the end of January, the company is also unveiling a flagship store for its 3CE brand in Shanghai. The brand, making its premier appearance to China during the first CIIE in 2018, has grown into the top international beauty brand by sales via Tmall, the country's top business-to-consumer e-commerce site.