Amb. Zhang Ming holds dialogue with business leaders from China and EU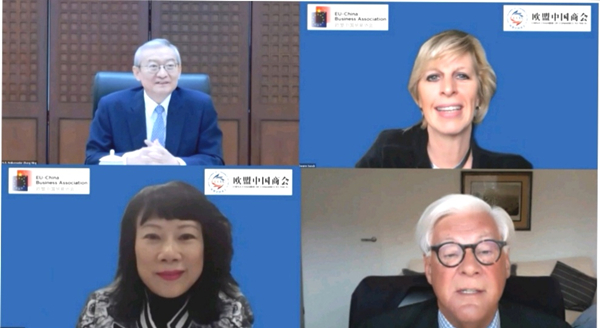 EU-China Business Association (EUCBA) and China Chamber of Commerce to the EU (CCCEU) have co-hosted an exclusive year-end dialogue between Ambassador Zhang Ming, head of Chinese Mission to the EU, and business leaders on 10th December.
Ambassador Zhang has shed light on evolution of Sino-EU relations and its outlook amid challenging global landscape before addressing various questions raised by participants across Europe and China.
EUCBA chairman Jochum Haakma and CCCEU chairwoman Zhou Lihong have given welcome remarks at the event moderated by Gwenn Sonck, EUCBA executive director. Minister Xia Xiang, head of the Economic and Commercial Office of Chinese Mission to the EU attended the meeting.
When giving his speech, Zhang said the Covid-19 pandemic has heavily hit global production and supply chain and resulted in severe economic recession with realizing recovery becoming the common challenge of the world.
Even against such backdrop, the trade flow between China and the EU, according to the ambassador, has approached $620 billion during January-November, up by 4.7 percent year on year. He added that China's exports to the EU and the EU exports to China are both on the rise and China is now the EU's largest trading partner.
Ambassador Zhang has contributed the resilience of Sino-EU economic and trade relations to the win-win nature of China-EU cooperation, China's consistent opening up and reform process and its commitment to multilateralism and free trade.
Zhang stressed that China and EU have been faced with new opportunities:the EU has rolled out a historic recovery plan, featuring green and digital transitions at a faster pace; China has made extraordinary efforts to contain the virus and restore the economy and this year, China is expected to achieve positive growth, which will bring hopes and driving forces for global recovery.
Zhang has introduced the Central Committee of the Communist Party of China's proposals for the formulation of the 14th Five-Year Plan (2021-25) for National Economic and Social Development and the Long-Range Objectives through the Year 2035. He stressed the new development paradigm with the domestic circulation as the mainstay, and the domestic and international circulations reinforcing each other.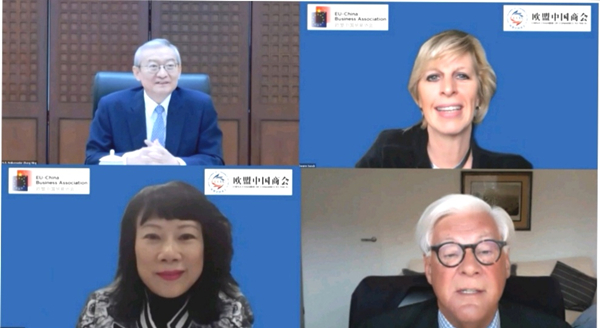 Zhang said, in the coming decade, China will contribute 30 percent of global economic growth on average every year and China's imports are estimated to top 22$ trillion.
"By 2035, China is expected to double its per capita income or total GDP. China is not only a world factory, but also the largest market in the world," said Zhang. " I believe that business leaders like you here have strong business acumen and will find plenty of opportunities in such a huge growing market."
But he added that to translate opportunities into concrete results, market players need to act proactively and creatively. "And it is up to governments to foster a fair, just and non-discriminatory market environment," said Zhang.
After his speech, ambassador Zhang has responded to the questions related to Sino-EU cooperation on Covid-19 pandemic and economic recession, the power relations among China, the US and EU after Biden winning American election, results of Sino-EU cooperation under the BRI framework, progress of the highly-anticipated Bilateral Investment Agreement, China's 5G market and its EU policy, and internationalization of Renminbi and Euro.
Zhang also went into details on difficulty in obtaining business visa to China due to temporary constraints amid severe pandemic spread, the market accesses of Belgian companies' export of pork to China, China's new national standards of milk powder for baby formula and the regulations on fire resistance equipment in buildings.
When addressing welcome remarks, chairman Haakma said the speed and efficiency with which China has tackled Covid-19 is really impressive and today more than ever, the EU and China, need to work together, taking for example the development of the vaccine to combat Covid-19.
Saying that the EUCBA is aimed at promoting the economic and trade relations between the EU and China, Haakma added that his organization would like to work closely together with the Chinese Mission to the EU, CCCEU, and the official European institutions to boost bilateral cooperation.
Referring to the pandemic and its consequences, CCCEU chairwoman Zhou Lihong said 2020 has been a particular year for all, who have experienced that cooperation is vital to overcome common crises and to turn challenges into opportunities.
She said for the future of the Sino-European relationship, both sides must treasure the momentum China and EU have succeeded in building despite this difficult year. "We are all dedicating our efforts to fruitful deliverables in the coming year, and we can surely reach them by joining hands and work in union," said Zhou.